Facebook blocks access to its hidden, unreleased iPad application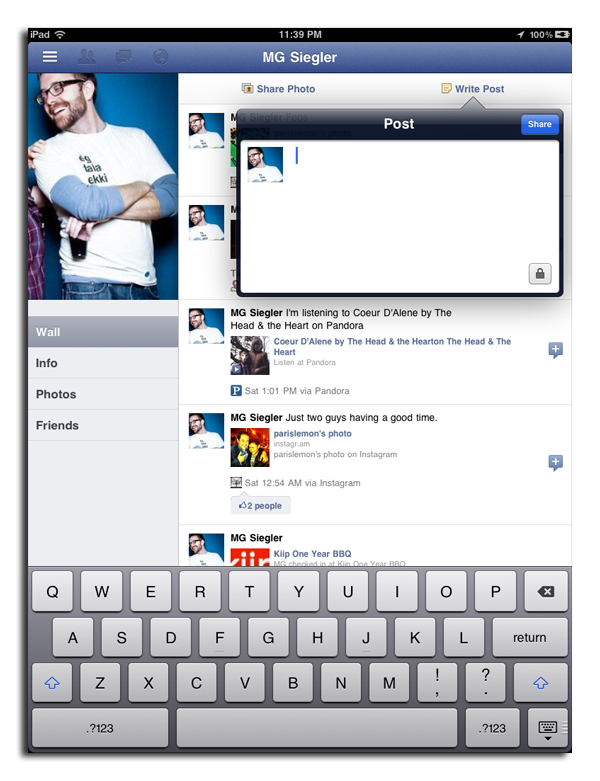 While a simple hack temporarily allowed users to preview what is expected to be Facebook's official iPad application, the social networking site has since blocked users from logging in with the unreleased software.
Users who implement the modification are still able to launch the iPad-friendly version of the Facebook iOS application, but according to TechCrunch, "newcomers are being turned away at the login screen."
"Oddly it seems that those who managed to sneak into the party before Facebook started closing the gates are still on the list... to some extent," the report said.
Since the Facebook-for-iPad tweak gained considerable attention, the social networking site has apparently blocked new users, and made it so certain features do not work for those who have already implemented the hack. For example, notifications are said to be acting strangely or not functioning at all.
Earlier this week, it was discovered that a native version of the Facebook application was hidden in the latest update to the iPhone application available on the App Store. By making slight modifications, users were able to unlock the concealed software that was mostly written in HTML 5.
The secret Facebook iPad application features a left-side menu system for navigating the site. It also has iPad-specific user interface elements, like overlay menus to write a post on the site.
Flipping the iPad horizontally also makes a user's list of online friends appear for chat. Users could also share photos with the native application.
The secret software was discovered in version 3.4.4 of the Facebook for iPhone application released this week. The latest update was characterized in the App Store as including a handful of bug fixes, but made no mention of the iPad. In fact, Facebook has never publicly made mention of a forthcoming native iPad application.
But in June, The New York Times reported that the site was set to launch official software on the iPad App Store in "coming weeks." The software was said to feature a "slick design" tailored for the multi-touch interface of the iPad, including overhauled Facebook Chat and Groups features, and also allowing the ability to shoot and upload photos and videos.
Earlier this month, Facebook Chief Executive Mark Zuckerberg promised his company plans to launch a number of products in the coming weeks and months. He referred to the period as Facebook's "launching season" of 2011, a season that kicked off with the announcement of a new partnership with Skype for video calling.