Apple Store taken down overnight for Order Status beautification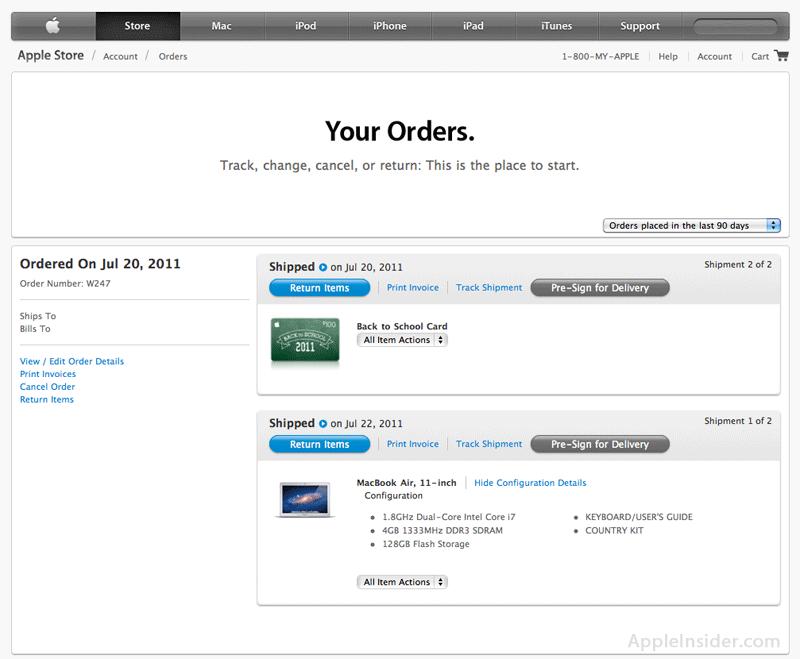 Apple overnight took its online store offline for roughly three hours as part of an ongoing process to improve the overall customer experience for shoppers wishing to review, manage, cancel, or return their orders, AppleInsider has learned.
More specifically, the previously-schedule maintenance saw upgrades to the Online Order Status component for the Apple online stores in the U.S., Canada, and Mexico, according to people familiar with the matter. An internal memo regarding the matter distributed on Friday stated that the improvements were designed to "enhance the overall look, feel, and functionality for a better customer experience."
Gone are the archaic blue and white order status pages that identified purchased items by part numbers and a string of abridged specifications more commonly found on point of sale (POS) systems operated by staffers rather one of the world's most popular online stores for consumers.
In their place, Apple has adorned the new order status pages with more of a Web 2.0 feel, including product images, graphical buttons for returning and pre-signing for shipments, and a drop-down menu tied to each item with quick-links for returning orders or re-printing invoices.
In addition, items are now presented with their formal product names such as "MacBook Air, 11-inch," rather than "MBAIR 11.6 CTO." An option to "Show Configuration Details" now clearly and concisely displays the product's specifications as bullet items. Similar changes we mirrored on Apple's new "Returns Made Easy" segment of the store.
The changes are said to be part of a broader enhancement process planned ahead of this year's holiday shopping season.