Apple takes aim at copycat fake retail stores with new lawsuit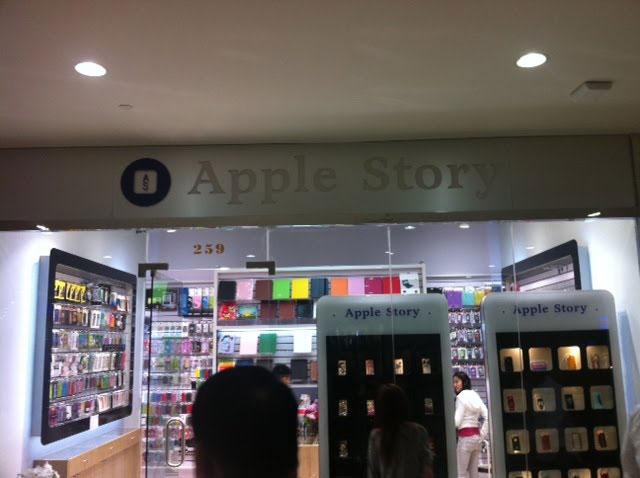 After a number of fake Apple retail stores in China gained publicity online, Apple appears to have taken legal action, undoubtedly looking to shut down the counterfeit locations designed to look like its own operations.
Apple has gone on the offensive against a number of defendants, including 50 John Does and unnamed businesses, in a new trademark infringement suit. The lawsuit filed in U.S. District Court in the Eastern District of New York remains under a court seal, so the specifics of the complaint are not known.
However, one of the defendants in the case is "Apple Story Inc.," matching the name of a retail outlet that mimics Apple's own highly successful retail operation. "Apple Story" is located in the neighborhood of Flushing in Queens, New York; Apple's lawsuit was filed in Brooklyn.
A photo of the "Apple Story" store, submitted to BirdAbroad, shows accessories for Apple products held in displays designed to look like Apple's iPhone and iPad.
Based on the photo, the New York store does not appear to go to the same great lengths taken by some highly elaborate fake stores in China. A handful of locations in the city of Kunming look nearly identical to Apple's legitimate stores, and employees at the fake locations even wear signature blue t-shirts.
AppleInsider attempted Thursday afternoon to contact Samuel Joseph Chuang, the attorney representing defendants Apple Story Inc., Fun Zone Inc., and Janic Po Chiang, to confirm the exact nature of Apple's lawsuit. A request for comment was not returned as of the time of publication.
Because the lawsuit is sealed, it is unknown whether this particular complaint, filed on July 25, also targets the elaborate overseas operations. It's possible that Apple does not yet know who runs those stores, and could be included in the 50 anonymous John Does that are named as defendants with no attorney listed.
"Apple Story" store in Flushing, New York. Credit Greg Autry via BirdAbroad.
Also named as a defendant in the case are generic "XYZ Businesses," with no total number given. Finally, a person named Jimmy Kwok is also listed as a defendant with no attorney.
Apple is represented by New York-based attorneys Mark N. Mutterperl and Todd Ryan Hambridge of the firm Fulbright & Jawardi LLP.
The case's docket report reveals that Apple's legal team spoke with defense attorney Chuang on Tuesday of this week, and both gave the court consent that the case be unsealed, which is how its existence was discovered by AppleInsider. However, the documents will remain sealed with access only to counsel and the court, leaving the exact details unknown.
Fake Apple store in China. Credit: BirdAbroad
After the fake Apple Stores in China garnered attention around the world, city officials in Kunming began investigating the retail locations. Outraged customers duped by the operations also reportedly returned, demanding proof that their purchases were genuine Apple products and not cheap knock-offs.
Two of the fake retail locations were ordered to close by the government because they did not have official businesses permits. But those stores were allegedly not found guilty of any copyright infringement in China.