Google rushing out Android 4 'Ice Cream Sandwich' to counter iPhone 5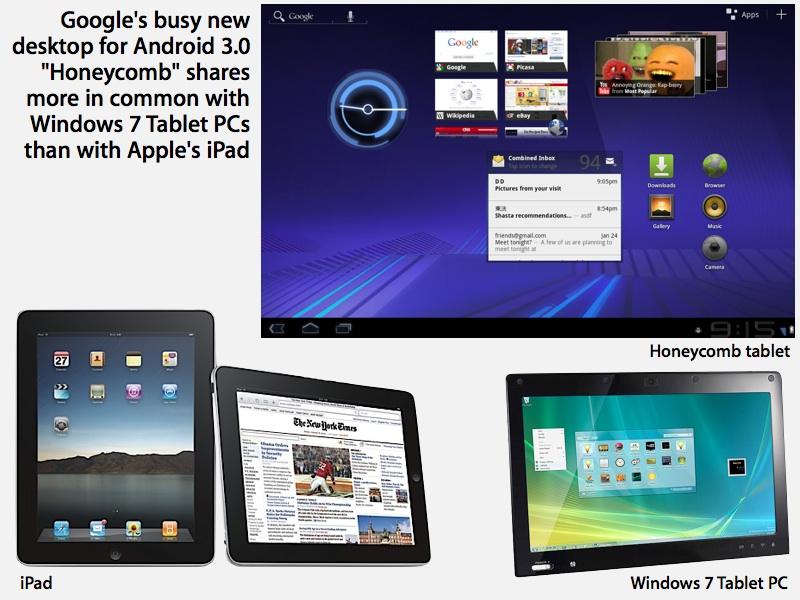 Google is reportedly scrambling to deliver the next version of Android for both smartphones and tablets to ensure that iPhone 5 doesn't appear on the market first and without a competitive response from its licensees.
Google shipped Android 2.2 Froyo to its smartphone licensees last year just prior to iOS 4, following up with a 2.3 Gingerbread release in December that incorporated support for NFC tags, improved copy and paste, and the company's WebM video codec.
However, the main thrust for Android in 2011 has been Android 3.0 Honeycomb, which took aim at the success of Apple's iPad. Google rushed Honeycomb to market on the Motorola Xoom shortly before the release of iPad 2, resulting in bad press for the ambitious but not quite finished release.
With Android 4.0 Ice Cream Sandwich, Google hopes to fold Honeycomb's "holographic 3D" tablet interface elements into its Gingerbread smartphone release, creating a unified version of Android's APIs that works the same across all devices designed for the new OS version.
Android Head of Engineering Mike Claren referred to the upcoming release as the company's "most ambitious release to date."
While aimed at a release date at the end of the year, BGR reported today that "it's looking like the first Ice Cream Sandwich devices could start hitting the ground in as early as October," noting that "we have been told that Google is looking to push up the release of Ice Cream Sandwich devices as Apple's iPhone 5 is expected in September or October, and the Mountain View-based company doesn't want potential customers coming out of contracts (especially original DROID owners) and 'drooling over the iPhone 5.'
A wait but no rush for iPhone 5
Apple's iPhone 5, scheduled to appear in the fall (likely late September or early October) alongside the release of iOS 5, is making its appearance later than the historical summer debut of previous iPhone and iOS releases.
That delay hasn't appeared to hurt Apple's smartphone sales, despite the fact that the company's iPhone 4 was first released just over a year ago (making it virtually ancient in the fast moving mobile industry). In part, that's because Apple has increased the number of new carriers selling iPhone 4, including Verizon Wireless in the US in February, greatly broadening the number of users capable of buying the phone.
Apple also released a white model of the iPhone 4 that appears to have attracted upgrades, resulting in a new record of 20.34 million iPhones in its fiscal Q3 2011 quarterly sales.
Still, there appears to be a significant backlog of buyers holding off for Apple's next iPhone release. According to one small survey by Gene Munster with Piper Jaffray, 64 percent of Verizon users plan to buy an iPhone for their next mobile, and 74 percent of those said they are waiting for iPhone 5. Just over half of AT&T users who plan to buy a new iPhone are also waiting for iPhone 5.