Microsoft rewrites 10K filing to depict Apple as significant competitor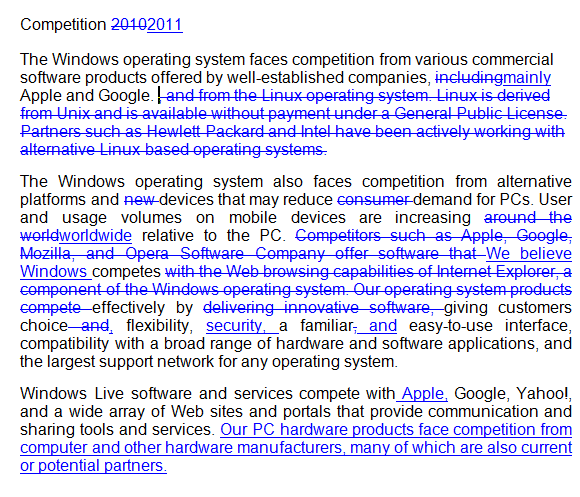 Microsoft revamped this year's 10K filing with the Securities Exchange Commission to remove mention of Linux, Mozilla and Opera as significant competitors and amplify the role of Apple as a competitor in both software and online services.
The new filing, detailed by Windows enthusiast Ed Bott of ZDNet, completely erases mention of the Linux operating system as a competitor to Windows.
Instead, the company now states that it is "mainly" Apple and Google who offer "various commercial software products that compete" with Windows. Last year, Microsoft cited various competitors "including" Apple and Google.
Microsoft has also changed its description of alternative platforms that compete against Windows, greatly deemphasizing the threat of web browsers that were once the company's top competitive priority. Even last year, the company listed Apple, Google, Mozilla and Opera as offering software that "competes with the web browsing capabilities of Internet Explorer," which the company described as "a component of the Windows operation system."
All of that verbiage is now gone, reflecting tremendous shifts that have occurred in the tech industry, both in the erosion of Internet Explorer's share of web use as well as in the shrinking role of PCs in general as people move to mobile devices.
Microsoft doesn't mention smartphones or the iPad specifically, but does remove two key words that indicate how much mobile devices have changed its competitive landscape.
First, the removal of the word "new" before "devices" that compete with Windows indicates that Microsoft now sees mobile devices as being a mainstream phenomenon, rather than an approaching trend.
Secondly, the company struck the word "consumer" from its acknowledgment of the risk of reduced demand for PCs, indicating that mobile devices are now making great strides in the enterprise as well, not just within consumer markets.
Microsoft continues to note that "user and usage volumes on mobile devices are increasing worldwide relative to the PC," indicating that devices like the iPad, which can perform a variety of web and app functions, are far more of a significant threat to the company's business than alternative web browsers running on PCs.
Apple online services get a new mention
The company also added Apple in front of Google and Yahoo as competitors to its "Windows Live software and services," a remarkable shift given the general lack of respect the industry has accorded Apple's MobileMe services.
Microsoft is clearly recognizing Apple as a prominent supplier of online services, particularly as it moves to enhance cloud services to its growing audience of iPad and iPhone customers with the new iCloud, which will be available for free and by default for all users starting with iOS 5 later this fall.
Microsoft's own efforts in mobile devices, ranging from the Zune music player to the KIN and Windows Mobile/Windows Phone smartphone platforms and its tablet products based on both Windows CE and Windows 7 have all been dismal failures, resulting in the company's share of the smartphone market plummeting from 28 percent to less than 1 percent from the appearance of Apple's iPhone to the most recent quarter.