Apple, Starbucks team up to give away free iPhone apps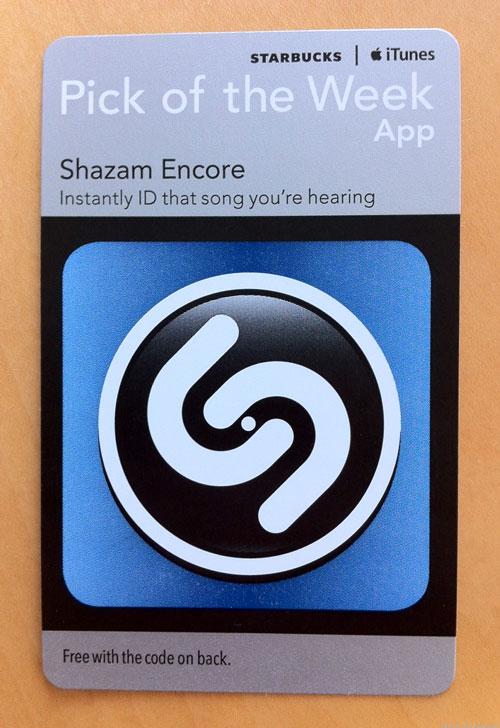 Apple and Starbucks have partnered to include giveaways of paid iPhone applications in the "Pick of the Week" promotional program, which previously offered iTunes music tracks to in-store customers of the coffee chain.
Starbucks has partnered with Apple for the "Pick of the Week" program since April 2008, providing users with iTunes Music Store content via cards. Now, those cards will also offer free downloads of paid iOS applications, as discovered by CNet.
The first application made available this week is Shazam Encore (iTunes link), which usually sells for $5.99 in the App Store. Starbucks reportedly would not comment on whether applications were to replace music tracks for good, or if both will be offered in the future.
In-store customers can pick up free "Pick of the Week" cards at the register that contain codes redeemable in the App Store towards the purchase of iOS apps.
Previously, the promotion allowed customers access to a free song each week, with tracks priced up to $1.29. The inclusion of Shazam Encore in this week's deal means it's a much more valuable giveaway for users, valued at $5.99.
The Starbucks promotion has brought U.S. customers of the coffee chain millions of free music downloads as well as access to other in-store digital content. Apple and Starbucks began working with each other in 2007, when Starbucks began allowing users to browse, search and freely preview millions of songs when on a store's Wi-Fi connection.
Shazam Encore, the first Starbucks Pick of the Week App. Credit: CNet.
Shazam Encore may have been chosen as the first free app to kick off the promotion as a direct result of Shazam's collaboration with Starbucks in the recent SRCH by Starbucks promotion. The contest was a two-week scavenger hunt involving artist Lady Gaga, in which customers had to identify one of her hit songs with their phone.
Late last year, Starbucks also partnered with Apple and Yahoo to offer digital content to in-store customers. The company's network allows customers exclusive access to free e-books, movies, and music.