Wall Street expects smooth transition from Steve Jobs to Tim Cook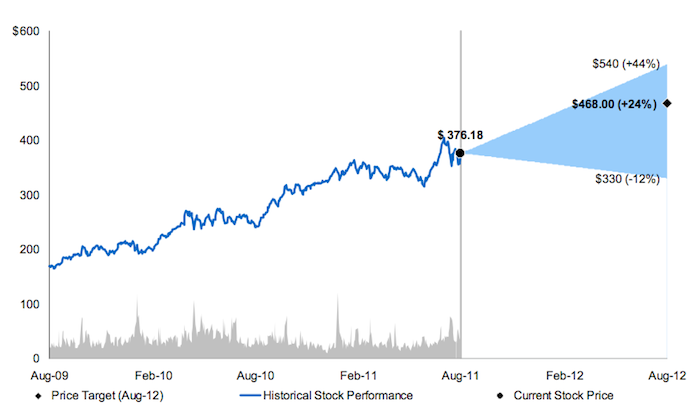 Responding to the news that Steve Jobs is stepping down as Apple CEO, Wall Street analysts affirmed the company's position, predicting a relatively uneventful transition for the company and calling Tim Cook "the ideal candidate" for the role.
Apple made headlines late Wednesday when it announced that Cook would be taking over for Jobs as Chief Executive Officer. Jobs wrote in a letter to the Board of Directors and the Apple Community that the day had come when he "could no longer meet [his] duties and expectations as Apple's CEO."
The company's stock fell in after-hours trading, down $19.08 or 5.07 percent. But, Wall Street analysts quickly voiced their confidence in the company, characterizing any drop as a buying opportunity for investors.
Analyst Maynard Um with UBS remained optimistic about the news. "We expect there to be no transition issues as Cook had been running daily operations as interim-CEO," he said.
He sees Apple's longer-term strategy to be "well laid out" for Cook and the rest of the management team to continue to execute. Um also believes that Apple stock will not fall significantly because of the news, as investors have been anticipating the announcement.
"We would view any weakness as opportunity given our expectation for strong Sept and Dec quarters," he continued. In light of the transition and Apple's hefty cash balance, the analyst called for a share repurchase on the belief that it would be a "positive catalyst."
UBS maintains a Buy rating on Apple, with a 12-month $510 price target.
Mark Moskowitz with J.P. Morgan described the Apple model as "built to last," reiterating the firm's Overweight rating and December 2012 price target of $525.
"We expect the news to create an attractive entry point for investors looking to add or build bigger positions in Apple. While the news could weigh on shares in the near term, we think the company's model is built to last, sustaining a "digital way of life" that other industry participants have yet to rival," he said.
According to the analyst, Jobs had a lasting impact on his company that will cement its role in the digital age. "Jobs' second term as Apple's CEO drove a stunning recovery and then rise to dominance by constructing a world of mobile devices and content ubiquity."
"We believe that the level of creativity and intelligence assembled throughout the management team and legion of Apple employees can sustain the Apple model and its industry leadership," he continued, adding that he does not expect "too much to change" within the company. "In our view, the far-reaching successes of the iPhone, iPad, iPod, and MacBook Air reflect the work of many, not one."
Moskowitz has a "favorable view" of Cook's ability to lead, citing his proven track record and the integral role he played in "driving the company's unprecedented revenue and earnings growth phase, limiting disruptions to the operations."
As with Um, the analyst believes Apple's stock has already been "partly discounted" in preparation of a CEO change. He cautioned that the stock will be "under pressure," but does not expect a downdraft.
Analyst Katy Huberty sent a note to investors describing the news as a "well timed and planned leadership transition." She remains "highly confident" in the firm's near-term earnings per share estimates and continues to "rank Apple as best positioned to see upward earnings revision."
The analyst did remark that Jobs is "irreplaceable," while adding that Cook is has a "proven track record of execution." She noted that shares of Apple have generally declined 7 percent after previous health-related announcements from Jobs, before recovering 11 percent, 12 percent and 21 percent over the next 30, 60, and 90 days.
"While this transition is more permanent, it removes the overhang caused by uncertainty around the CEO transition," she added.
The firm reiterated its Overweight rating and $468 price target. She also said her bull case scenario $50 EPS estimate is "still in the cards" for calendar year 2013.
Gene Munster said Wednesday evening that Jobs' greatest accomplishment may be Apple itself. According to the analyst, the former CEO's legacy include not only his many great inventions, but also "those people who now lead Apple and carry on his way of creating the future."
"In reality, the ethos of Steve Jobs, his vision and his work ethic, will forever drive Apple. As such, we reiterate, without hesitation, our Overweight rating on shares of Apple following the resignation of Steve Jobs and the appointment of Tim Cook as Apple's next CEO," he wrote.
Munster went on to say that Jobs' "final great act" was to groom Cook as his successor, calling Apple's new chief "the ideal candidate." He did acknowledge potential investor concerns that Cook may not be able to continue "Jobs' streak of innovation," but dismissed it by noting that "Jobs' deeply rooted vision will always guide Apple and its leaders."
"Cook is capable of running Apple, but his rare combination of extreme humility and insatiable motivation make him uniquely suited to assume Jobs' role as CEO and carry on his work with a peerless executive team," he said.
The analyst also expressed a belief that Cook will carry out a 5-year roadmap that "he and Jobs jointly established, "including several iterations of Apple's existing products as well as new categories, like an Apple Television as soon as late 2012."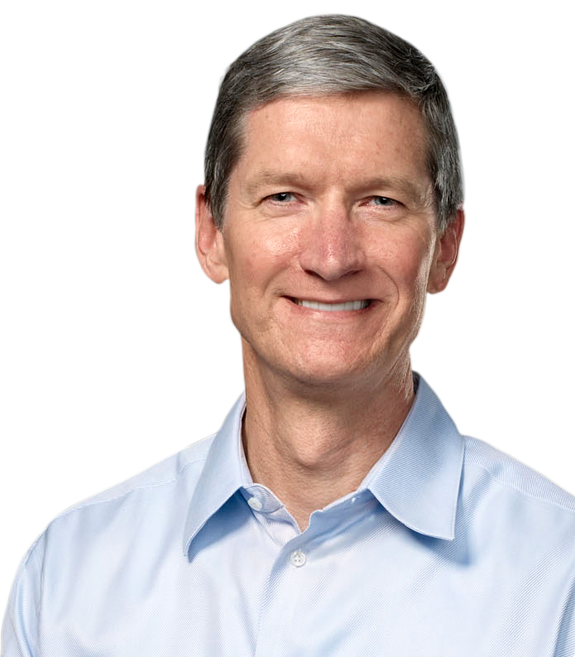 For his part, Cook has been lauded as an operational genius whose behind the scenes overhaul of Apple's supply chain helped spark the company's meteoric rise. Motley Fool analyst Eric Beeker also noted in an interview with AppleInsider on Wednesday that Cook, despite lacking Jobs' visionary leadership, should do well as CEO, especially with the help of colleagues Jonathan Ive and Phil Schiller.