Evidence suggests Apple will bring iCloud to Snow Leopard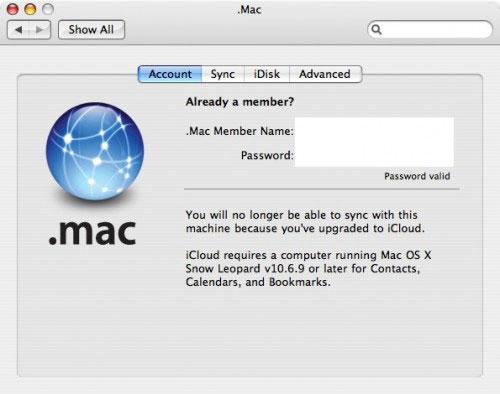 AppleInsider may earn an affiliate commission on purchases made through links on our site.
For Mac users who have not yet upgraded to Lion, new evidence suggests Apple will add iCloud support to its predecessor, Snow Leopard, in the form of an update.
A developer running Tiger updated their MobileMe account to iCloud. After making the changeover, a .Mac preference pane in Tiger mentioned that iCloud requires a computer running Mac OS X 10.6.9 or later, a screenshot provided to MacRumors shows.
"You will no longer be able to sync with this machine because you've upgraded to iCloud," the preference pane reads. "iCloud requires a computer running Mac OS X Snow Leopard 10.6.9 or later for contacts, Calendars and Bookmarks."
The current build of Snow Leopard is Mac OS X 10.6.8, with Apple's attention now turned to Mac OS X 10.7 Lion. Given the aggressive $29.99 price point of Lion on the Mac App Store, support for iCloud in a previous-generation operating system may come as a surprise to some.
iCloud is set to debut this fall, but developers have been testing the software with beta builds of Mac OS X 10.7.2. The latest build of 10.7.2 and iCloud beta 9 were issued to developers last Friday.
For developers, iCloud for OS X Lion is an add-on installer for Mac OS X that adds in-development iCloud functionality to Macs for developers.
The free iCloud service will automatically and wirelessly sync data from iOS devices, like the iPhone and iPad, as well as Macs and PCs. iCloud will include cloud-based contacts, calendar and e-mail, allowing users to access their inboxes, events and contacts across a range of devices. Through iCloud, this data will always be up-to-date and in sync.
iCloud will also automatically and securely back up iOS devices daily when users charge their iPhone, iPad or iPad touch. Backed up content will include music, apps, books, photos, videos, device settings, and application data.
In addition, iCloud Storage will provide users 5GB of space to store important files, such as documents and mail. With the new Documents & Data feature, Apple's iCloud will automatically propagate changes made to a file on one device to every other synced device. For example, users will be able to create a document in Pages on their iPhone, and later access it from an iPad, Mac or PC.