Kodak patent sale attracting 'large numbers' of interested buyers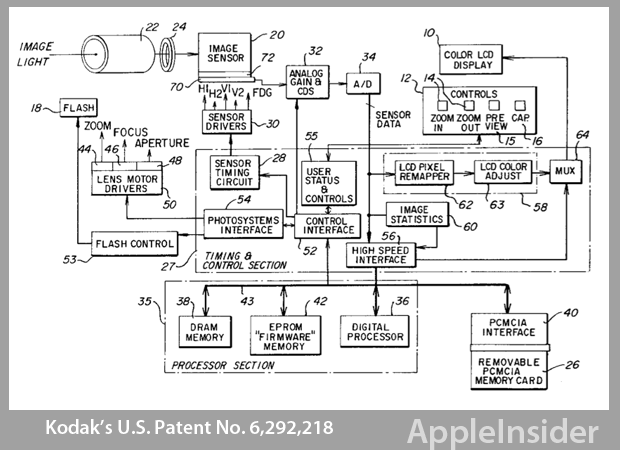 AppleInsider is supported by its audience and may earn commission as an Amazon Associate and affiliate partner on qualifying purchases. These affiliate partnerships do not influence our editorial content.
Eastman Kodak revealed this week that interest in the company's digital imaging patents is high, as numerous people are seriously considering buying the patent collection.
The photography pioneer announced in July that it was shopping around its 1,100 digital imaging patents, which make up roughly 10 percent of its patent portfolio.
"At the moment we announced that, the phone started to ring," Chief Executive Officer Antonio Perez said in an interview with Bloomberg on Tuesday.
According to Perez, the company's adviser for the sale has "contacted a large number of people," many of whom have signed confidentiality agreements.
"All of this litigation takes a lot of time, and it's very expensive and demands a lot of my time," he said. "We would rather get an infusion of cash in advance, being able to have a series of relationships with many of those companies that otherwise we'd have to be in legal conflict with."
Christopher Marlett, CEO of MDB Capital Group, an investment bank which specializes in intellectual property, said Microsoft, Apple, Google and Samsung may bid on the patents.
Shares of Kodak leapt up 11.84 percent to $3.40 on Tuesday. The stock is down 37 percent since the beginning of the year.
Among Kodak's patent collection is one patent that could bring in more than a billion dollars in revenue. The company is currently asserting U.S. Patent No. 6,292,218 against Apple and BlackBerry maker Research in Motion in an infringement suit with the International Trade Commission, but may be willing to sell the patent to the right buyer.
The company's case against Apple has experienced delays and hangs in uncertainty after the administrative law judge handling the case retired in early August. That judge had previously sided with Apple and RIM, finding the patent to be an "obvious variation of an earlier invention."
A recent valuation of Kodak's digital imaging IP collection estimated it at $3 billion, more than five times the company's market cap at the time. Earlier this month, one investment bank called the company "the lowest hanging fruit out there."
Patent deals have reached record highs in recent months. Google spent $12.5 billion to acquire Motorola Mobility, a move largely seen as protecting its Android mobile OS with the handset maker's more than 17,000 patents.
Apple teamed up with a consortium of competitors, including Microsoft, RIM and Sony to outbid Google and Intel for a group of Nortel patents said to have key inventions related to 4G Long-Term Evolution technology. The final bid reached $4.5 billion, more than three times the price expected by some analysts.
Kodak hope to seize the opportunity to receive a lump sum of cash for its patents while interest is peaking. "Given the heightened demand in the marketplace for premium intellectual property assets, we believe that the timing is right and that we have a great opportunity for these very valuable assets," Perez said in July.