Apple wants to 'rethink' how people use Maps for iPhone, iPad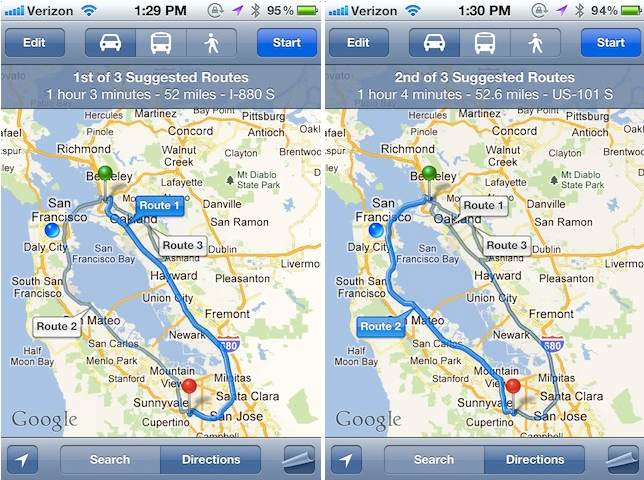 AppleInsider is supported by its audience and may earn commission as an Amazon Associate and affiliate partner on qualifying purchases. These affiliate partnerships do not influence our editorial content.
Apple is once again adding to its iOS Maps software development team, calling for job candidates who will help "rethink" how iPhone users rely on maps, location and geographical information.
Location services on the iPhone and iPad have been an area of great focus for Apple for some time. That interest continues to grow, as Apple this week posted three new job listings for iOS software developers focused on the native Maps application and discovered by AppleInsider.
"We want to take Maps to the next level and rethink how people use maps, location and geo information," one listing reads. "We want to do this in a seamless, highly interactive and enjoyable way. We've only just started!"
The description is very similar to a job listing posted by Apple in late 2009, which also mentioned taking Maps "to the next level" and an effort to "rethink" the software. But the 2011 version found in the new job postings makes additional mention of location services and geographical data.
The new employees are asked to be familiar with navigation, along with GPS and location-based services. The three job listings only add to the mounting evidence that Apple could be working on its own turn-by-turn navigation service for the iPhone, perhaps similar to the free Google Maps Navigation available on Android devices.
The latest job postings come only days after separate listings by Apple revealed the company is working on "exciting new features" for location-aware software on the iPhone. For that role, Apple also seeks an employee who has experience with "navigation algorithms."
Apple has been on something of a hiring spree related to location services in 2011. In March, the company put a call out for more than two dozen positions related to iOS development, with a particular focus on location services. More job listings from that same month revealed that the company wants to "radically improve" the native Maps application for iPhone.
Apple's forthcoming iOS 5 will add alternate routes to Maps.
News of a forthcoming navigation service was publicly disclosed by Apple in April, when the iPhone maker revealed to the U.S. government that it is working on a "crowd-sourced traffic" service for the iPhone. It was said that the location-based traffic service was planned to become available in "the next couple of years."