HTML suggests 'Find My Friends' social service still coming to Apple's iCloud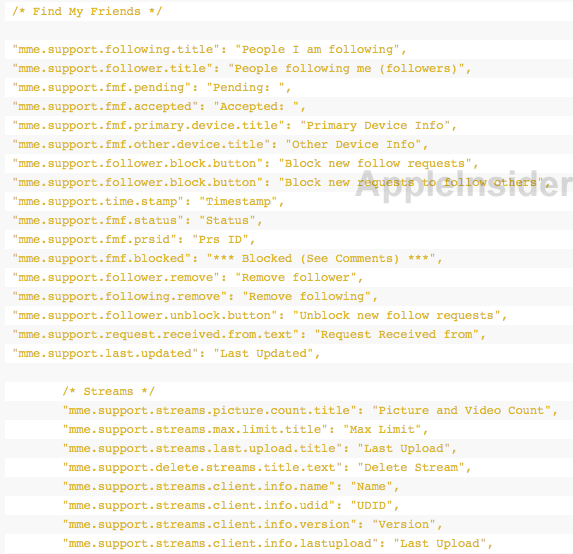 AppleInsider may earn an affiliate commission on purchases made through links on our site.
More evidence of a "Find My Friends" social networking service from Apple has surfaced, with alleged Apple-written HTML code suggesting it could be a part of iCloud when it launches this fall.
The details were anonymously provided to AppleInsider by a person who said they were "digging around" when they came across an online support tool for MobileMe, Apple's iCloud predecessor. The authenticity of the code cannot be verified, but a "Find My Friends" feature was also referenced earlier this year in an iOS 4.3 beta.
The tipster claims they looked at the HTML accompanying the page they accessed, and found references to the rumored "Find My Friends" service.
It includes references to standard social networking functions, like a list of people a user is "following," as well as "pending" and "accepted" follower requests. The code also mentions user statuses, updates, blocking of users and removing followers.
Earlier this year, the iOS 4.3 beta also included references to a "Photo Stream" service that would sync pictures saved to an iOS device with Apple's remote cloud-based servers. That feature was later formally announced in June as part of the forthcoming iCloud service along with iOS 5.
Potentially lending support to the authenticity of the alleged iCloud website HTML, it references "Streams" of pictures and videos uploaded through the service. It includes code for "Picture and Video Count," "Max Limit," "Last Upload," and "UDID," for the unique identifying number for an iPhone, iPad or iPod touch.
Specifics on Apple's supposed "Find My Friends" feature remain unknown, but its name suggests the social networking tool could be similar to existing products like Google Latitude or Loopt, allowing users to share their location via GPS and more easily find one another.
Apple's interest in a location-sharing service was detailed by AppleInsider last December, in a patent application filing with the U.S. Patent and Trademark Office. Referred to in the documentation as "Friend Locator," the service would use Apple's push notification service to share their location with friends via GPS.