First official Apple Store in Hong Kong will open Sept. 24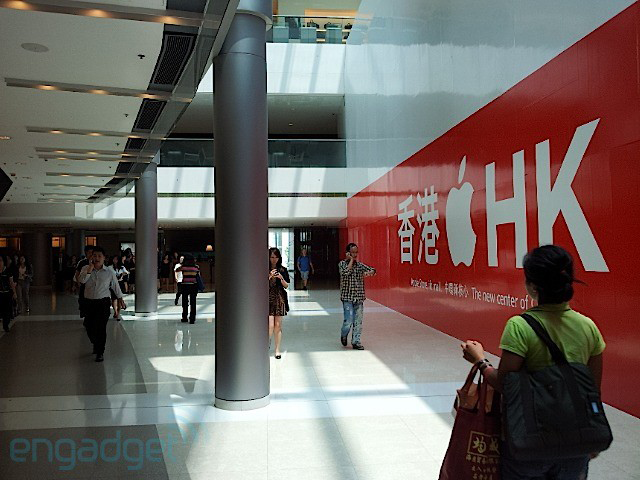 AppleInsider may earn an affiliate commission on purchases made through links on our site.
Apple's first retail store in Hong Kong is set to open later this month, inside the high-profile International Finance Center mall on September 24.
Banners advertising the forthcoming grand opening can now be seen at the retail center. They read "Apple Store, ifc mall. The new Center of Central."
In addition, Engadget Chinese (via Google Translate) was able to confirm that the store will open on September 24. Officially, Apple declined to confirm the date, noting they "don't have further information to share."
Hong Kong's International Finance Center is a waterfront commercial development in the city's Central District. The on-site mall is a four-story shopping center with more than 200 stores found within.
Construction on the store began in June, when the two-story storefront was covered and the mall promised a "new destination" would open in the fourth quarter of 2011. Reports suggested Apple planned to spend more than $20 million on construction alone.
The shop is expected to employ more than 300 employees who will serve an estimated 40,000 customers each day, which is more than four times the volume of an average U.S. Apple store.
Apple reportedly plans to followup the launch of its shop at the IFC Mall with a second Hong Kong location spanning an even greater 20,000 square feet at Hysan Place in Causeway Bay sometime in 2012.
The company's presence in Hong Kong could help to thwart a booming grey market for Apple devices. Devices like iPads and iPhones are frequently brought into the city and sold at higher prices as authorized resellers in Hong Kong run out of stock. Even Apple's retail stores themselves have been subject to elaborate counterfeits in China.
When it officially went on sale last month, Apple's new MacBook Air units drew long lines and were frequently out of stock in Hong Kong. Last quarter Apple saw its revenue in China grow six times to reach $3.8 billion, and executives have said they believe they are barely "scratching the surface" of the market in China.