Apple forecast to lead 2011 smartphone shipments with 86.4M iPhones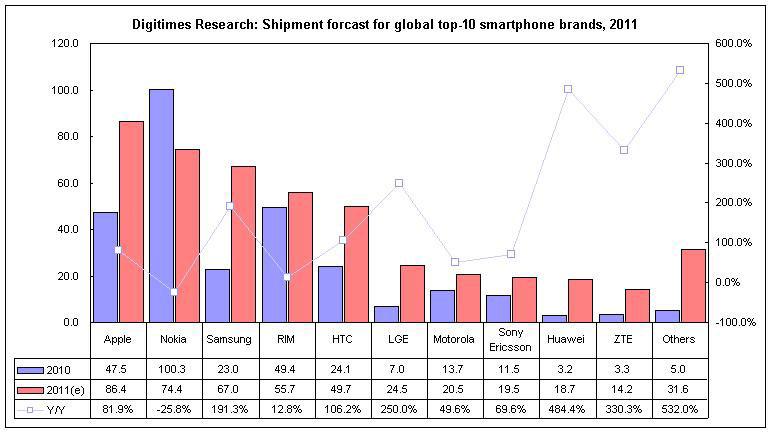 AppleInsider is supported by its audience and may earn commission as an Amazon Associate and affiliate partner on qualifying purchases. These affiliate partnerships do not influence our editorial content.
Apple is projected to lead all smartphone shipments at the conclusion of 2011 with 86.4 million units, an 82 percent increase from 2010.
Global smartphone shipments for this year are expected to reach 462 million units, according to the latest research from DigiTimes. That would be a 60 percent increase from the 288 million smartphones shipped in 2010.
Leading all vendors will be Apple, the analysis concluded, topping the 74.4 million units expected to be shipped by Nokia. Apple's forecasted 86.4 million units in 2011 would be up substantially from the 47.5 million iPhones the company shipped last year.
Nokia, meanwhile, would tumble significantly to fall to No. 2 worldwide. The Finnish handset maker shipped over 100 million smartphones in 2010, but is expected to fall while the rest of the industry sees tremendous growth.
Coming in third, according to the analysis, will be Samsung. The Korean company, which is involved in a bitter legal battle with Apple, is expected to see its shipments increase 44 percent to 67 million units.
Singled out as two "rising stars" in the smartphone industry were Huawei and ZTE, both based out of China. Huawei in particular is expected to see a 400 percent year-over-year rise in shipments.
In all, the top five smartphone makers — Apple, Nokia, Samsung, Research in Motion and HTC — are forecast to top 333 million units. Together, they would account for 72 percent of total units shipped in 2011.
Last quarter proved to be the best yet for Apple in terms of iPhone shipments, which reached 20.34 million. That represented a 142 percent year-over-year increase, helping to propel the company to $7.31 billion in profits.
Apple's strong iPhone sales came in spite of the fact that the company has opted for a later-than-usual release of its next-generation iPhone this year. Rumors have repeatedly pointed toward an October release for the company's so-called "iPhone 5."