Apple's free iMessage expected to undermine carriers' high-profit SMS business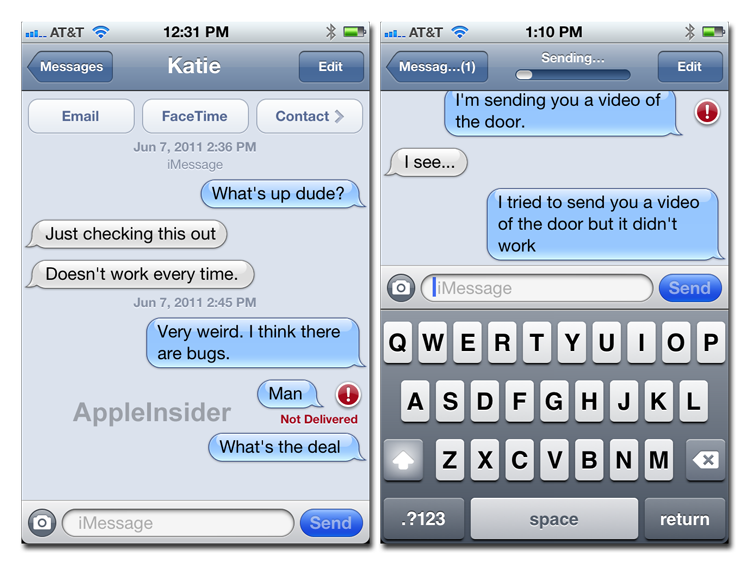 Apple's upcoming free messaging application iMessage in iOS 5 will likely disrupt wireless carriers' thriving SMS texting business when it arrives on Tuesday, according to multiple analysts.
iMessage, a new app launching as part of iOS 5,

">will offer

iPhone, iPad and iPod touch owners unlimited free messaging over Wi-Fi and 3G networks.
The New York Times reports that the forthcoming service is being perceived as a threat to mobile operators. iMessage and other similar services will allow smartphone users to rely on existing data plans and Internet service for text messaging functionality, thereby avoiding having to pay for high-margin SMS plans from wireless operators.
SMS – A multi-billion-dollar business in the U.S.
An SMS message offers the user the ability of sending short bursts of text of up to 160 characters. Report author Jenna Wortham noted that, at rates as high as 20 cents per sent and received message, a user would end up paying $1,500 to send 1MB of text data. The same amount of data costs just 1.25 cents on a $25 per month 2GB data plan.
Two trillion text messages are sent in the U.S. each year, according to Sanford C. Bernstein analyst Craig Moffett. That translates into $20 billion in revenue each year, with $7 billion a year taken in by Verizon alone.
One expert estimates that a single text message costs carriers just a third of a penny. University of Waterloo professor Srinivasan Keshav told the publication that SMS messages use the same network carriers employ for voice calls, piggybacking "on the phone railway," with as much as "4,090 percent markup" for the service.
In the Netherlands, free messaging apps and social networks have already "shrunk texting traffic and eroded profits," Wortham said. However, the report noted that some carriers are adapting to the imminent potential threat coming from Apple's iMessage.
AT&T now offer its subscribers two choices, a $20 per month unlimited text plan or a flat 20-cent fee per sent and received message. The carrier's previous plan of $10 per month for 1,000 text messages is no longer available.
For its part, Verizon sees iMessage as a complementary feature to other communication standards. "From a business perspective, customers still need a data plan to connect to a device. They are only making choices on how they are using the data," a company spokesman was reported as saying.
However, Apple devices only account for 5 percent of texting traffic each year, mobile analyst Chetan Sharma told the publication. Considering that iMessage is an iOS-only application right now, users will still require a texting plan to connect to mobile subscribers that do not own a supported iOS device.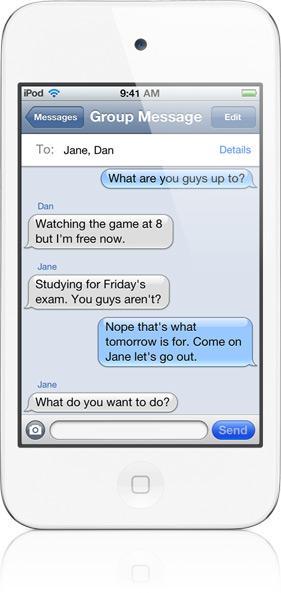 iMessage – How it works
The application is part of iOS 5, the company's latest mobile platform version which will be released

">on Oct. 12

. iOS 5 will be compatible with various iOS devices: iPhone 3GS, iPhone 4, iPhone 4S, iPad, iPad 2 and third-generation and newer iPod touch models.
iMessage was unveiled at this year's Worldwide Developer Conference in June at what turned out to be the last keynote the late Steve Jobs delivered. One report suggested that Apple's carrier partners were unaware of the development of such an app, reportedly finding out about it at the same time as the general public.
The app will make instant text-messaging between iOS devices substantially cheaper, even free in some cases, as it only requires a wireless network or a 3G data plan to work. The service should draw special appreciation from users that send a significant amount of SMS messages to friends and family that live in other countries and also happen to own recent models of Apple's mobile offerings.
Unlike SMS messages, iMessage texts are not limited to 160 characters per message. In addition to text, the application lets users share photos, videos, locations and contacts. Also, all sent and received iMessages are securely encrypted.
The app supports multi-device use, so users can pick up chatting with their contacts across any of the iOS devices they own. iMessage features single and group messaging and offers text delivery notifications.
A recent code discovery in Apple's iChat application

">suggests

the company may be interested in bringing iMessage support to its OS X Lion chatting platform.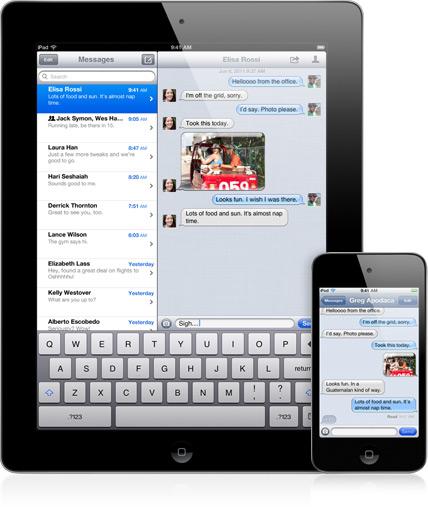 Similar solutions from Apple rivals
iMessage has been seen as Apple's answer to Research in Motion's popular BBM messaging application that lets BlackBerry users instant message each other. Until the introduction of iMessage, BBM was considered an exclusive major smartphone feature that would draw some mobile consumers to BlackBerry devices and turn them into loyal brand followers.
Samsung and Google are also reportedly working on similar services that would allow Android users to communicate via free messages instead of pricier SMS texts. Meanwhile, Microsoft is said to be readying its own instant messaging system for the Windows Phone platform.
Other third parties offer free instant messaging clients for most smartphone platforms including iOS, but they are not natively integrated into the operating system and need to be downloaded from the appropriate application store.