Apple updates iWork, iPhoto, Aperture and more, adds Cards & iTunes trailers apps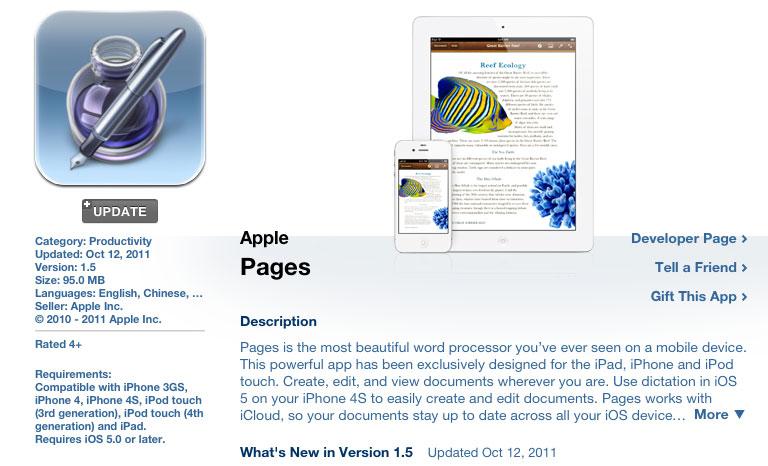 AppleInsider is supported by its audience and may earn commission as an Amazon Associate and affiliate partner on qualifying purchases. These affiliate partnerships do not influence our editorial content.
Even more Apple-built iPhone and iPad applications were improved Wednesday for iOS 5, with the iWork suite, iMovie, Remote and Find My iPhone receiving updates. Also, the company released a new iTunes Movie Trailers application, along with its previously announced Cards ordering software.
Updates are now available for Pages, Keynote and Numbers on the App Store. For those who do not already own the software, they sell for $9.99 each. All three updates add iCloud functionality.
Apple's documentation states version 1.5 of Pages includes:
Automatically store your documents in iCloud and keep them up to date across your iOS devices.
Download your documents to a Mac or PC at icloud.com/iwork as Pages '09, Word or PDF files.
Drag and drop Pages '09, Word, or plain text documents to icloud.com from your Mac or PC to have them automatically appear on your iOS devices.
User your voice to create and edit Pages documents with dictation in iOS 5 on your iPhone 4S.
Create footnotes and endnotes in your documents.
View improved word counts with character, paragraph, and page counts.
Improved compatibility with Microsoft Word and Pages '09.
Includes improved support for Chinese, Japanese, and Korean language input.
Version 1.5 of Keynote offers the same iCloud functionality. In addition, it also adds:
Use AirPlay to present wirelessly via Apple TV. Navigate slides, view presenter notes, and use the laser pointer while presenting from your iOS device.
New builds and transitions including Anvil, Blinds, Color Panes, Comet, Confetti, Diffuse and Sparkle.
Advanced presentation controls including looped slideshows and autoplay.
Support for slide-to-slide hyperlinks.
Improved compatibility with Microsoft PowerPoint and Keynote '09.
Includes improved support for Chinese, Japanese and Korean language input.
Finally, version 1.5 of Numbers also offers compatibility with iCloud and document syncing. Its additional features are:
Use sliders, steppers, and pop-ups to easily enter data and explore results.
Use Merge Cells to format your tables.
Hide and show rows and columns.
Improved compatibility with Microsoft Excel and Numbers '09.
Includes improved support for Chinese, Japanese and Korean language input.
Apple's photo organizing and editing software has been updated to be compatible with iCloud and iOS 5 devices, with Aperture and iPhoto both receiving minor updates.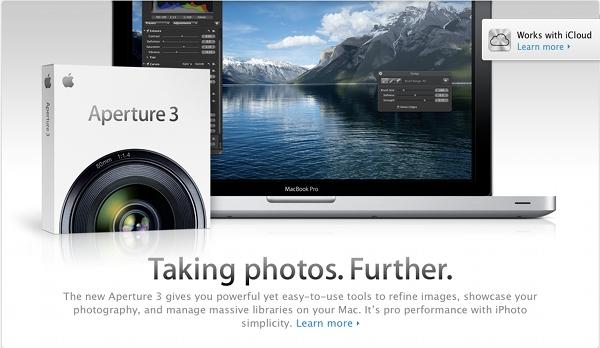 The professional-level Aperture adds new multi-touch gestures as well as bug fixes for Mac OS X Lion users. Additions include:
Resolves an issue that could cause the "Loading" indicator to reappear in the Viewer when cropping a photo.
Aperture now automatically relaunches into Full Screen mode if the application was in Full Screen mode when last quit.
Pinch-to-zoom gesture now automatically activates Zoom mode in the Viewer.
Left and right swipe gestures can now be used to navigate between photos in the Viewer.
Microsoft Outlook can now be chosen in Preferences as the application used by Aperture for emailing photos.
Fixes a problem that could cause Aperture, running on OS X Lion, to quit unexpectedly when using brushes to apply adjustments.
Loupe now correctly displays magnification levels between 50-100%.
Fixes an issue that could cause Aperture, running on OS X Lion, to display the incorrect color profile on externally edited images.
The Lift & Stamp tool now displays the correct cursor icons when being used in Split View and Viewer only modes.
iPhoto 9.2 addresses minor stability improvements and compatibility issues including:
Left and right swipe gestures can now be used to navigate between photos in Magnify (1-up) view.
Previously imported photos are now displayed in a separate section of the Import window.
Book/calendar themes and card categories can now be selected using a pop-up menu in the carousel view.
Resolves an issue that could cause some pages of books to print incorrectly.
Rebuilding a library now correctly preserves saved slideshows and books.
iMovie, Remote & Find My iPhone updated
Version 1.2.2 of iMovie for iOS addresses minor issues and expands support for videos imported from external cameras. It is a 69.4MB download and new purchases cost $4.99.
Remote version 2.2 from Apple provides compatibility with iOS 5, and also provides additional stability and performance improvements. It is 15.4MB and a free download.
Find My iPhone has also been updated with new features for iCloud users, including the ability to find a Mac and an option to request an e-mail when an offline device comes online and is located. It too is free, and is a 5.4MB download.
iTunes Movie Trailers & Cards released
A new universal application called iTunes Movie Trailers was also released on Wednesday. It also requires iOS 5, and gives users access to trailers from Apple's website, making them viewable in a native application on both iPhone and iPad.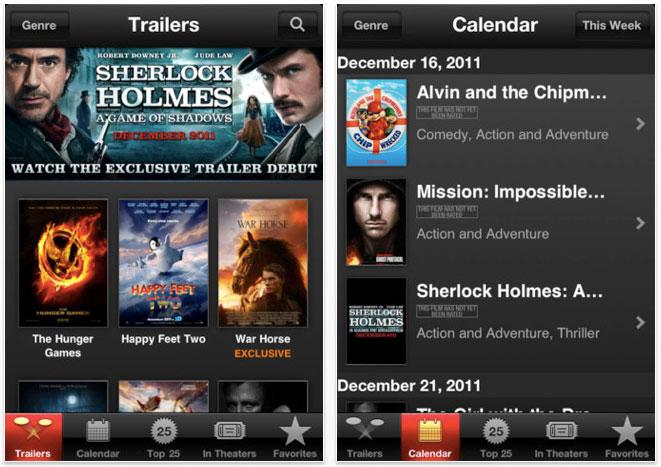 Features of the application, according to Apple, include:
Access hundreds of movie trailers, clips, behind-the-scenes featurettes, and images, available in HD or SD.
Explore an interactive, year-long release calendar that helps you plan when you'll be going to the theaters.
Save favorite movies and theaters for immediate access anytime.
Search what's playing at your local theaters and purchase tickets directly from your iPad or iPhone.
Save images to your iPad photo gallery, to use as iPad or desktop wallpapers or send to your friends.
Browse top charts to view the most downloaded trailers, box office rankings, and top movies on iTunes to buy or rent.
Enjoy your favorite movie trailers on your TV with AirPlay and Apple TV.
Email or tweet trailer recommendations to your friends.
Use iCloud to push your favorite theaters and movie trailers to all of your iOS devices.
Finally, Apple's Cards application is also available. It lets users create and send custom-made greeting cards via the U.S. Postal Service.
"The new Cards app from Apple lets you create and mail beautifully crafted cards personalized with your own text and photos — right from your iPhone or iPod touch," the official description reads. "Take a quick snapshot and with a few taps and swipes, an elegant letterpress card is on its way to any address in the world. Each card is just $2.99 when sent within the U.S. and $4.99 when sent to or from anywhere else. And that includes postage."

The service offers custom letterpress cards with digital text and photos. Each card is made from 100 percent cotton paper and imprinted with a debossed design.
A total of 21 designs for six occasions are available, including Thank You, Holiday, New baby, Birthday, Love and Travel. Users can customize the placeholder text for any occasion, and add a photo to the card or send one with just text.
Location integration is also included in travel designs, and photos with GPS data can show the name of the place where the photo was taken.
The application lets users select an address from their Contacts list to easily personalize it, and orders can be placed with an Apple ID and password. In the U.S, a card will include Apple's specially designed postage.
The service also comes with delivery notification, and a history of cards made. cards can be resent to another recipient as well, making it easy to thank a number of friends or send out a notification to a large number of people.