Apple looking to simplify Bluetooth power states to conserve battery life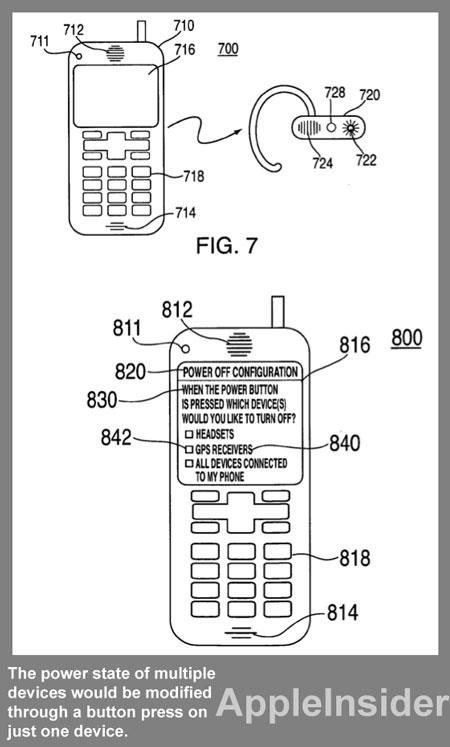 Apple is investigating a new way to power off Bluetooth-enabled electronic devices, allowing users to press just one button on one device to configure or disable multiple devices.
Apple's interest was revealed this week in a new patent application published by the U.S. Patent and Trademark Office entitled "Automatic Power-Off of Bluetooth Device from Linked Device." Discovered by AppleInsider, it describes a system where a user would only need to turn off one device, and other Bluetooth-enabled devices connected to it would respond accordingly.
Apple's application notes that Bluetooth devices often experience poor battery life. For example, if a person is using a Bluetooth headset to make a call, often times when the call is completed they forget to turn it off.
"For this reason, many devices typically include things such as timing circuits that power off the device if it hasn't been used for a given amount of time," the filing reads. "The problem with that 'solution,' however, is that it still wastes battery power even though the device is not in use."
The proposed invention also gives an example of a user going through an airport, who is often required by security to individually turn on their electronic devices to show that they are in proper working order. Then, once the person gets on the airplane, they are required to turn off all of their electronic devices prior to takeoff or landing.
"These situations often require a user to turn off multiple devices and can lead to devices being dropped and potential damage," the application reads.
Apple's solution would allow users to not only turn off all of their Bluetooth devices by deactivating one device, but could also alter the settings of a linked device, like an iPhone or MacBook Pro. The power state of multiple devices would be modified through a button press on just one device.
In addition to completely powering off a portable Bluetooth device, like a headset, the settings for a multipurpose device with Bluetooth connectivity could be altered. For example, an iPhone could be changed to a predetermined power-saving mode in which Bluetooth would automatically be disabled once the external headset is turned off. Or, the iPhone or MacBook Pro could go into a power-saving mode where Bluetooth communications would be restricted to minimal activity.
In this way, a device could be changed to what are referred to as "Sniff, Hold or Park Modes" of Bluetooth communications for battery conservation. In Sniff Mode, a device checks for Bluetooth signals at a reduced rate, Hold Mode remains synchronized and maintains an active status without actually participating, and Park Mode gives up an active status while maintaining synchronization.
This could conserve battery life on an iPhone, but also on an headset. In the filing, Apple notes that an iPhone could track the battery status of a Bluetooth headset, and switch to a power saving mode until a call is received.
The proposed invention, made public this week, was first filed with the USPTO in June of this year. It is credited to Michael M. Lee, Jeffrey L. Terlizzi, and Christopher D. Mckillop.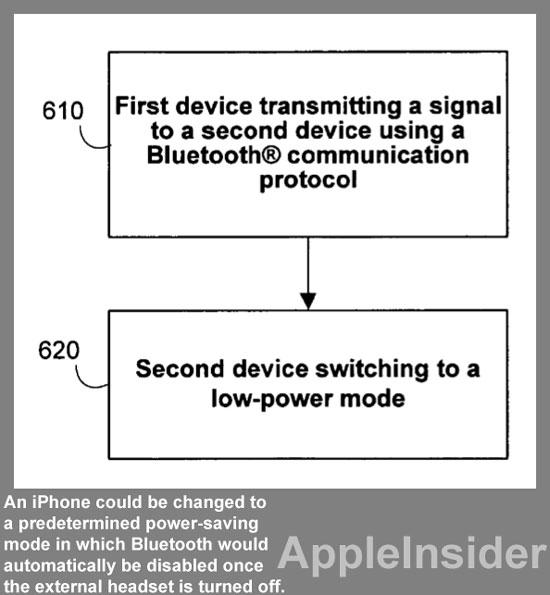 The new filing comes as Apple tomorrow will release its new iPhone 4S, with support for Bluetooth 4.0 profiles. Bluetooth 4.0 includes "Classic Bluetooth," "Bluetooth High Speed" and "Bluetooth Low Energy" protocols.
Bluetooth Low Energy, or BLE, mode is aimed at low-power and low-latency applications. It carries a short range of up to 160 feet, but still reaches farther than the competing radio-frequency identification (RFID) wireless standard.
Apple joined the Bluetooth Special Interest Group Board of Directors in June of this year, around the same time the filing was made. At the time it was revealed that Apple is aiding in developing the low-power Bluetooth 4.0 specification.
The iPhone 4S is the latest Apple device to gain support for Bluetooth 4.0, as Apple has recently been adding compatibility with the wireless specification to its devices. In July, the updated MacBook Air and Mac mini lineup gained Bluetooth 4.0 support.