Steve Jobs described as romantic teen in Rolling Stone magazine feature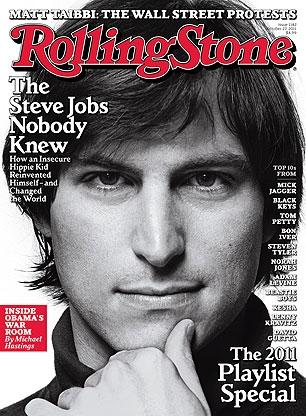 Rolling Stone magazine in a forthcoming feature describes personas of the late Steve Jobs widely unknown to the public, including his "almost 100 percent romantic" teen years.
Chrisann Brennan, Jobs' first serious girlfriend, is the author of the essay in which she recollects various instances of the tumultuous relationship she had with the man that was about to create Apple, The Associated Press reports.
The two met in 1972 while attending the Cupertino Homestead High School and their relationship lasted until 1978 when their daughter, Lisa Brennan-Jobs, was born.
Brennan, a high school junior at the time she met Jobs, was impressed with his personality and charisma. "This guy could make things work. And from the way he'd taken charge of the situation, I knew he knew it too," she writes. They moved in together in summer 1972 after Apple's future co-founder personally persuaded the owner of a cabin to rent them a space that was unsuitable for a couple.
The 17-year-old Jobs is described as a hopeless romantic, taking special interest in Bob Dylan music, poetry and the arts. Brennan also tells the story of how the couple, joined by a roommate named Al and Steve Wozniak, used to play "Alice in Wonderland" characters in a Santa Clara mall. Brennan would play Alice while the men would take turns playing the Mad Hatter and White Rabbit due to the excessively hot costumes that included "knee-length giant heads."
Jobs' passion for Bob Dylan lyrics, which he'd edit on an electric typewriter, may have given him a sense of comfort, suggests Brennan. She admits she wasn't impressed at the time by Jobs' creativity. "Only now do I see what he was trying to do," she writes in retrospect. "He was a loner and he didn't talk much, and I think he used Dylan's songs to make sense of the world."
For Brennan, however, her memories of Jobs are not all fond ones, as their relationship inevitably depreciated. In time, Jobs turned into an "all-too-often despotic jerk," she recalls. He also denied that he was the father of Lisa for two years after she was born, during which time he was already managing Apple. One of the computers the company sold during the early 1980s was called the Lisa after Jobs' daughter.
The Rolling Stone edition featuring Brennan's essay will hit newsstands on Friday. Alongside her piece, the publication also offers readers a cover story by Jeff Goodell, which describes Jobs' management style adopted at Apple. Some of the memories shared by Brennan are also detailed in the 1999 TV docudrama "Pirates of Silicon Valley" in which Jobs is played by Noah Wyle.
Further exploring Jobs' personality and management style, the Oct. 17 issue of Time magazine also features extensive coverage on Apple's co-founder written in part by Walter Isaacson, the author of Jobs' authorized biography. The 448-page book entitled simply "Steve Jobs" will be published on Oct. 24.
Steve Jobs passed away on Oct. 5 after a long bout with cancer, a day after the company unveiled the iPhone 4S and six weeks after he tendered his resignation as CEO of Apple.