Apple Q4 2011 earnings disappointment attributed to iPhone transition 'hiccup'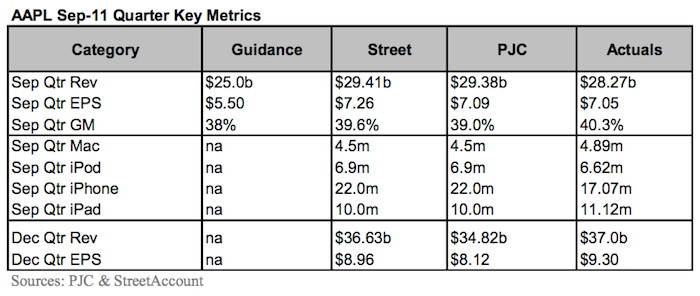 AppleInsider may earn an affiliate commission on purchases made through links on our site.
After Apple's quarterly earnings failed to live up to Wall Street consensus estimates, some analysts have labeled the September quarter a "transitional quarter" for Apple, while remaining reassured that the first quarter of iPhone 4S sales will make up for the so-called "hiccup."
Piper Jaffray analyst Gene Munster said in a note to investors late Tuesday that Apple's recent quarterly results were the first earnings and revenue miss since 2002. The analyst pointed out that he had expected sales of the iPhone to reach 22 million, but Apple announced just 17 million units, a sequential decrease from the June quarter.
"We see this as a disappointment, but given the strong start to iPhone 4S sales, we believe it is clear that units were pushed from the Sept. quarter into the Dec. quarter as customers waited for the "iPhone 5,"" he said.
Munster had expected first weekend sales of the iPhone 4S to reach 2.5 million, but actual results blew past expectations to top 4 million. Apple itself said during the conference call to discuss its quarterly results on Tuesday that it was confident it would set an all-time high in iPhone sales next quarter, the first of the 2012 fiscal year.
The firm also remains confident in Apple's continued earnings growth because of indications of high customer loyalty. According to surveys by the investment bank, 94 percent of iPhone owners will buy another iPhone. Munster speculates that, if 80 percent of the 40 million customers who purchased the iPhone during the 2010 fiscal year decide to upgrade next year, 30 percent of his 2012 estimate "is very solid."
He also pointed to Apple's iPad sales as "the key data point" from the quarter, as unit sales grew 166 percent year over year, comprising roughly one quarter of the company's revenue. Munster predicts Apple will sell 52 million iPads in the 2012 calendar year.
The analyst also made note of the fact that Apple's December quarter guidance is "less conservative than usual." Apple has said it expects a record-breaking $37 billion in revenue next quarter, 1 percent above the Street consensus. According to the firm, Apple has, on average, provided revenue guidance 2 percent below consensus.
"We believe Apple's Dec-11 quarter guidance is evidence of the company's confidence in iPhone 4S and iPad sales in the Dec-11 quarter," Munster concluded.
Mike Abramsky of RBC Capital Markets told investors that Apple's first miss in five years was "transitional." He also viewed the company's guidance as unusually strong. According to him, Apple may see "strong catalysts ahead."
The analyst did warn, though, that the miss could spark near term volatility in Apple's stock "pending improved investor visibility to forward catalysts," such as the iPhone 4S product cycle and strong growth in Asia.
RBC had projected $34 billion in revenue and $8.00 in earnings per share next quarter, compared to Apple's guidance of $37 billion in revenue and $9.30 EPS.
Katy Huberty said late Tuesday that Apple's results were just a "small hiccup," adding that the pump is primed for the company to see improved revenue growth in the fourth quarter of calendar 2011. In her view, there are "no structural issues" related to Apple's performance last quarter.
"We believe the Street underestimated the degree to which September was a transitional quarter for the iPhone but with strong iPhone momentum out of the gate in October, we don't see the light iPhone shipments as a cause for concern," she said.
After the June quarter's blowout results, analysts noticed that Apple guidance for the September quarter was unusually low. When asked about the figures, Apple Chief Financial Officer Peter Oppenheimer warned that a "future product transition" would have a material impact on revenue for the quarter. In hindsight, the assumption that the transition in question was a reference to the next-generation iPhone proved to be accurate, as customers appear to have held off on purchasing the smartphone while awaiting the rumored fifth-generation model.
Huberty also called attention to Apple executive comments that may suggest plans for lower-priced iPads and iPhones. She also noted Apple CEO Tim Cook's remark that he wasn't married to the idea of hoarding the company's cash.
The analyst did say that a "lower than expected uptick in iPad shipments was the only real "flaw"" in the quarter. She viewed sell through of 9.6 million as only a slight improvement from the 9 million in June. Huberty expects 13 million iPads in the December quarter, noting that she does not believe that Apple has lost tablet share to competitors.
Morgan Stanley has raised its price target from $470 to $480 dollars, maintaining its $50 bull case EPS estimate for calendar year 2012.