Apple expanding iPhone availability to smaller regional US carriers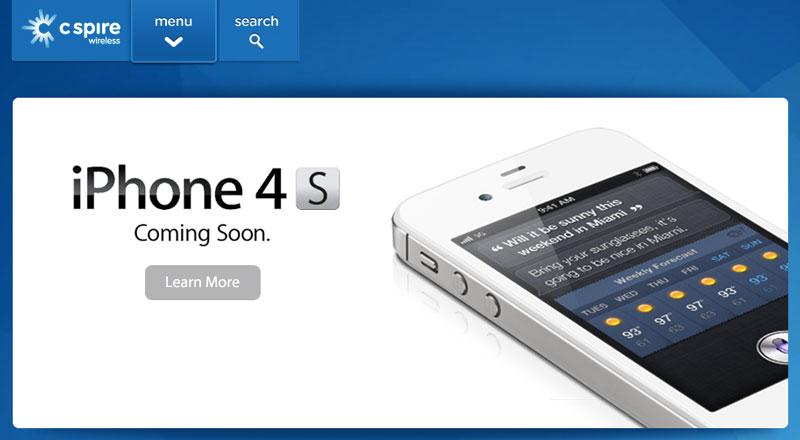 AppleInsider is supported by its audience and may earn commission as an Amazon Associate and affiliate partner on qualifying purchases. These affiliate partnerships do not influence our editorial content.
C Spire Wireless, a regional U.S. carrier with about 900,000 customers, revealed on Wednesday that it will be offering Apple's new iPhone 4S "soon," making it the first smaller carrier in America to have access to Apple's smartphone.
C Spire is a CDMA carrier like Verizon and Sprint. By adding the iPhone 4S to its lineup, it will be the fourth carrier in the U.S. to officially offer Apple's new handset.
C Spire updated its website on Wednesday to announce that it will carry the iPhone 4S, and has a page devoted to features of the new handset including Siri voice control, the speedy dual-core A5 chip and all-new camera. Users can provide their e-mail address and mobile number to receive more information when it becomes available.
The addition of C Spire marks the first time Apple has allowed a smaller, regional carrier to officially offer the iPhone for use on its network. The revelation follows indications from Apple Chief Executive Tim Cook that the company plans to aggressively push for sales of its iPhone platform to go even higher.
"We want the iPhone to be in as many customers' hands as possible because we think it's the greatest phone by far," Cook said during his company's quarterly conference call on Tuesday. "And that's why we live to do that. And so yes, we aspire to much larger volumes than where we are."
Based in Ridgeland, Miss., and serving customers in Mississippi, Memphis, the Florida Panhandle, and parts of Alabama and Georgia, C Spire is not one of the "big four" wireless providers in the U.S.
The only one of the four biggest carriers in the U.S. that does not offer the iPhone is T-Mobile. That carrier is the fourth-largest in America with 33.73 million customers.
T-Mobile's lack of access to the iPhone is a result of the company's 3G service relying on the uncommon 1700MHz and 2100MHz bands, which are not supported by Apple's smartphone. Users who operate an unlocked iPhone on T-Mobile's network are restricted to much slower "EDGE" speeds.
Sprint became the third wireless partner for Apple earlier this month. In their first day of availability with Sprint, the iPhone 4S and iPhone 4 both broke sales records for the carrier, which is the third-largest in the U.S.
Verizon, the largest U.S. carrier by customers, gained access to the iPhone in February, ending more than three years of exclusivity with AT&T. Throughout 2011, the iPhone 4 has been the best-selling smartphone at both Verizon and AT&T in the U.S.