Apple begins taking iPhone 4S preorders in 22 new countries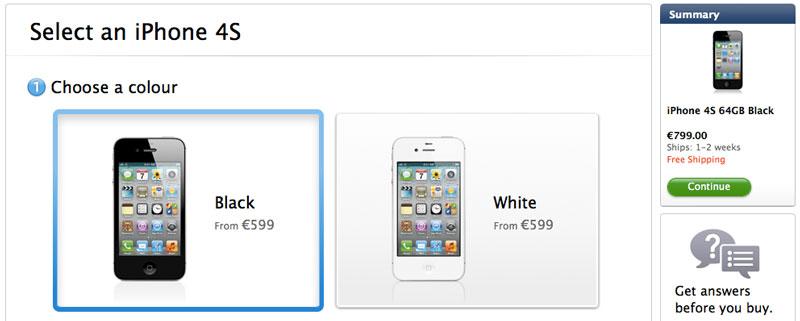 AppleInsider is supported by its audience and may earn commission as an Amazon Associate and affiliate partner on qualifying purchases. These affiliate partnerships do not influence our editorial content.
Apple's iPhone 4S remains on track to launch in 22 more countries by the end of the month, as the company began taking preorders around the world on Friday.
The iPhone 4S represents the fastest worldwide rollout of any iPhone model yet. The handset launched earlier this month in seven countries: the U.S., Canada, Australia, the U.K., France, Germany and Japan.
When it introduced the iPhone 4S at an event this month, Apple promised that an additional 22 countries would gain access to the iPhone 4S by the end of October, bringing the total number of nations to 29.
Those additional 22 countries began taking preorders on Friday via Apple's online store (where available), as well as local carriers. The full list of countries is: Austria, Belgium, Czech Republic, Denmark, Estonia, Finland, Hungary, Ireland, Italy, Latvia, Liechtenstein, Lithuania, Luxembourg, Mexico, Netherlands, Norway, Singapore, Slovakia, Slovenia, Spain, Sweden and Switzerland.
In countries where the iPhone 4S is available for preorder, Apple is quoting an estimated shipping time of one to two weeks for new purchases. The unlocked iPhone 4S is a "world phone," meaning it can be used to roam worldwide on GSM carriers with a micro-SIM card.
The iPhone 4S is already off to a record-breaking start in its first seven countries, where sales topped four million in its first three days of availability. That handily outpaced the 1.7 million units of the iPhone 4 Apple sold in June of 2010.
Apple executives said on Tuesday that they expect the current quarter to be another record setting three-month span for the iPhone. Driven by the iPhone 4S, Apple has predicted it will earn $37 billion in revenue during the holiday frame.
"I'm confident that we will set an all-time record for iPhones this quarter," Apple Chief Executive Tim Cook said during his company's quarterly earnings conference call on Tuesday. He added "In our wildest dreams, we couldn't have got off to a better start than we did with the iPhone 4S."