Apple building prototype televisions for potential 2012 launch - report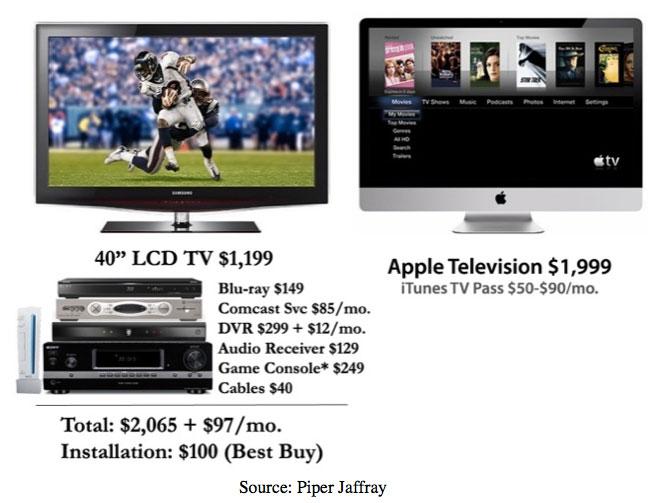 As rumors of an Apple television set pick up steam, one new report claims that the company is already building prototype models for a launch potentially as soon as late 2012.
Analyst Gene Munster with Piper Jaffray revealed in a note to investors on Monday that a source close to an Asian component supplier claimed in September that Apple was building prototype models of its rumored high-definition television set.
Munster has long been a believer that Apple will enter the television market, saying as far back as February 2009 that he believed the company was working on a major entrance into the living room. He sees Apple building an all-in-one, Internet-connected television set with access to the App Store and iTunes content.
If Apple were to launch a TV set in late 2012, he believes it would add about 3 percent to the company's revenue in 2013. With a projected 220 million flat panel TVs to be sold in 2012, 48 percent, or 106 million, will be Internet-connected devices, and he sees Apple selling 1.4 million of those.
With the addition of iCloud and Siri voice control, Munster believes Apple is even more prepared to launch an HDTV in the coming years. With iCloud, users could access TV shows, pictures, and potentially moves, while Siri could "simplify the chore of inputting information like show titles, or actor names, into a TV."
Munster also met with sources in Asia in January of this year, where he heard word that Apple is investing in manufacturing facilities and securing supply for LCD displays. The company is said to have invested in screen sizes of up to 50 inches for a potential television set.
Rumors of an Apple-built HDTV began to pick up steam once again last week, when it was revealed that Apple co-founder Steve Jobs told his biographer that he had "cracked' the secret to building an integrated, easy-to-use television set. He said the device "will have the simplest user interface you could imagine."
Apple is currently in the set-top box market with its $99 Apple TV, but the company has famously referred to its interest in that market as a "hobby." The Apple TV allows users to purchase content from iTunes, while new features like wireless AirPlay mirroring have been added with recent software updates.