Nokia launches first Windows Phones to take on Apple's iPhone 4S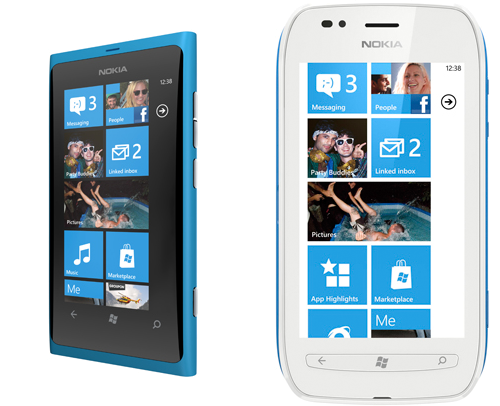 AppleInsider is supported by its audience and may earn commission as an Amazon Associate and affiliate partner on qualifying purchases. These affiliate partnerships do not influence our editorial content.
Nokia on Wednesday introduced its first smartphones running Microsoft's Windows Phone platform, two devices branded "Lumia" that the company hopes will compete with Apple's iPhone lineup.
Nokia's first flagship Windows Phone handset is the Lumia 800, featuring a 3.7-inch AMOLED ClearBack Curved Display, a 1.4GHz processor, and 16GB of internal storage with 25GB free from Microsoft SkyDrive. It also has an instant-share camera based on Carl Zeiss optics with HD video playback for about 420 euros, excluding taxes and subsidies.
Nokia's low-end Lumia 710 is a "purposely built, no-nonsense" phone designed for social and image sharing. It sports the same 1.4GHz processor as the 800 model, and Nokia said it delivers "high performance at an affordable price" of about 270 euros, excluding taxes and subsidies.
The new smartphone lineup from Nokia isn't exclusively powered by Windows Phone, however. Also introduced on Wednesday was the Nokia Asha series with QWERTY keyboards and touchscreens that "blur the line between smartphones and feature phones."
"Eight months ago, we shared our new strategy and today we are demonstrating clear progress of this strategy in action," said Nokia President and CEO Stephen Elop. "We're driving innovation throughout our entire portfolio, from new smartphone experiences to ever smarter mobile phones.
"From the Nokia Lumia 800 to the Nokia Asha 201, we are bringing compelling new products to the market faster than ever before. I'm incredibly proud of these new devices - and the people of Nokia who have made this happen."
Both of Nokia's Lumia Windows Phones feature Nokia Drive, a full-fledged personal navigation service with free turn-by-turn navigation and dedicated in-car user interface. They also sport Nokia Music introducing MixRadio, a free global music streaming application with hundreds of channels.
The Lumia 800 is now available for preorder on Nokia's website and is scheduled to hit France, Germany, Italy, the Netherlands, Spain and the U.K. in November. Launches will occur in Hong Kong, India, Russia, Singapore and Taiwan before the end of the year, and more markets will come in 2012.
The lower end Lumia 710 will be available in Hong Kong, India, Russia, Singapore and Taiwan toward the end of the year, along with the Lumia 800. It too will be available in more markets by early 2012.
As for the U.S., Nokia said ti plans to introduce a portfolio of products stateside in early 2012. The Finnish handset maker will also make a push in mainland china in the first half of next year.
Nokia's new Lumia 800 (left) and Lumia 710 are its first Windows Phones.
The Lumia smartphones represent the first Windows Phones from Nokia as the struggling company begins its transition away from its own Symbian platform. Nokia was once the dominant worldwide smartphone maker, but the company has quickly fallen behind in the fast-growing market.
To stem its losses, Nokia brought in Elop, a former Microsoft executive, to run its company. His strategy has been to ditch the ailing Symbian platform and adopt the Windows Phone software on its smartphones. Elop admitted earlier this year that his company was "feeling the heat" to bring its first Windows Phones to market in 2011.
Nokia's unveiling of its first Windows Phones comes only weeks after Apple introduced its latest flagship smartphone, the iPhone 4S. As part of its fast worldwide launch, the iPhone 4S will be available in 29 countries by the end of this month and more than 70 countries by the end of the year.