Google TV gaining Android Market, simpler interface with new update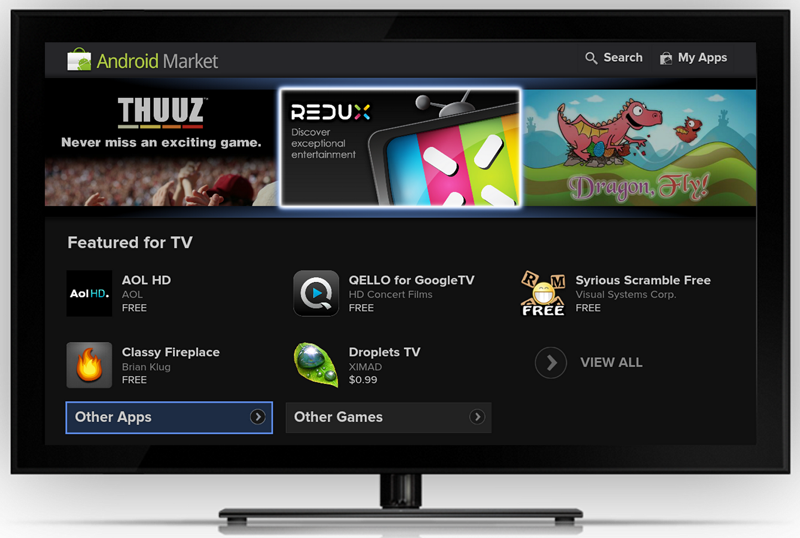 Google on Friday announced that it will issue a major update for its Google TV platform to some devices starting early next week, adding more applications from the Android Market as well as a simpler interface.
The company admitted in a post to its official blog that the first version of Google TV "wasn't perfect," though it promised to improve the software with future updates. Next week's updates are said by Google to focus on four areas of user feedback:
Keep it simple: Google says its interface is now much simpler. The new customizable home screen allows users to access to content quickly. And within "all apps," users can see all of their shortcuts, similar to an Android phone or tablet.
Make it easy to find something worth watching: Google says it has improved search across the board for content from Live TV, Netflix, YouTube, HBO GO, and more. There's also an app called "TV & Movies" that allows users tobrowse through 80,000 movies and TV episodes across cable or satellite, Netflix, Amazon, YouTube, and many other sites. Those who have opted in to recommendations can receive better predictions.
Make YouTube better on TV: Google will also launch a new YouTube experience specifically built for Google TV. And the search giant will integrate YouTube more closely with Google TV search, so users can turn virtually any topic — mountain biking, cooking, etc. — into a channel.
Bring more apps to TV: Google is are opening up its set-top box to creators large and small through Android Market. Android developers can now bring existing mobile apps or entirely new ones to TV. Initially, the number of apps won't be large — apps requiring a touch screen, GPS, or telephony won't show up — but 50 developers have seeded the Market.
Google TV was first unveiled in May of 2010 as an extension of the company's Android mobile operating system to set-top boxes made by third-party hardware manufacturers. Next week's update will be available to Sony devices, while Logitech boxes will receive the update "soon thereafter."
When it hit the market last November, Google TV was widely panned for being too confusing and complex for users. David Pogue of The New York Times referred to it as "an enormous step in the wrong direction."
Google TV arrived around the same time Apple launched its own revision of the Apple TV, a diminutive $99 device that is powered by the iOS operating system found on the iPhone and iPad. Rather than add native support for iOS applications, Apple has allowed developers to utilize its AirPlay feature to wirelessly stream content, including games and videos, to an Apple TV.
The redesigned and lower priced Apple TV found immediate success and boosted sales of the platform for Apple. Conversely, this july Logitech said that "very modest sales of its $249 Google TV-based Revue were exceeded by returns of the product from unhappy customers, prompting the company to slash its price by 66 percent to match the Apple TV under $100.
While Apple has famously referred to its Apple TV as a hobby, rumors have persisted that the company plans to release a full-fledged high-definition television set in the coming years. Those claims picked up steam this week with the release of the authorized biography of Steve Jobs, in which the Apple co-founder said he felt he had "finally cracked" the development of a simple user interface for a television set.
Adding to those rumors, The New York Times reported on Thursday that Apple is expected to release an HDTV with Siri voice recognition technology by the year 2013. Another report this week claimed that while Apple is still working on its television set, a bigger hurdle remains in securing content deals to provide TV shows and movies to the anticipated product.