Apple retail customers to gain self-checkout option via iOS app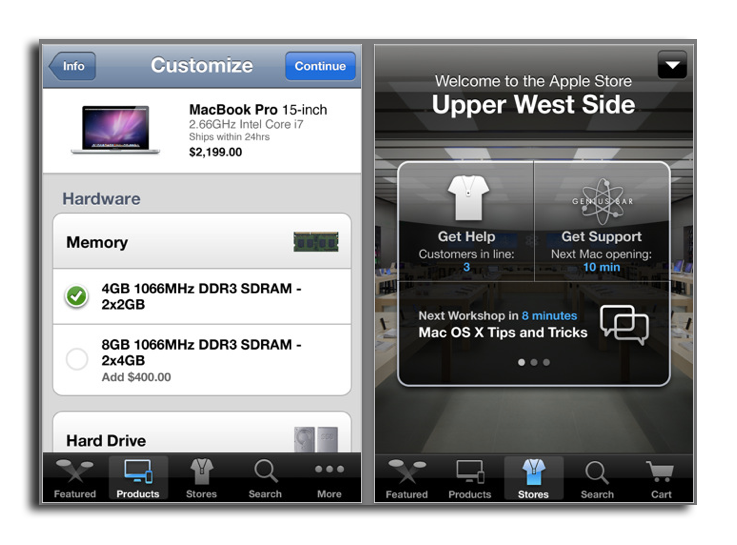 AppleInsider may earn an affiliate commission on purchases made through links on our site.
Apple plans to give retail customers the ability to finalize their own in-store purchases via its iOS application for the iPhone, according to a new report.
Apple's rumored plans to update its iOS application for a self-checkout option were revealed by MacRumors. The new functionality is expected to arrive as soon as this week.
An update to the official "Apple Store" application for iOS is said to allow users to charge purchases to their iTunes Store account, linked to an Apple ID and credit card just as App Store purchases are authorized. The anticipated option will only apply to accessories and items found on the shelf.
The new ability will not apply to more expensive items like the iPhone, iPad, iPods or Macs. Those devices will remain kept in the stockroom at Apple's retail stores, and will require assistance from a salesperson in order to purchase.
But for accessories sold in stores, including cases for products like the iPhone and iPad, users will be able to complete the transaction on their own with an iOS device. An automated e-mailed receipt will serve as confirmation of the transaction, allowing customers to show employees that an item has been paid for.
The new self-checkout option is rumored to arrive soon after Apple launched an in-store pickup program via its online store. Customers in San Francisco can now order a product online and pick it up at a local Apple retail store, and that ability is expected to expand to other U.S. stores in the near future.
Another change is also said to be coming to Apple's online store, allowing customers to place a single order with multiple items, and have those items shipped to different addresses. The enhanced functionality is expected to debut in time for the holiday shopping season.