Despite new CPU options, Apple reportedly questioning future of Mac Pro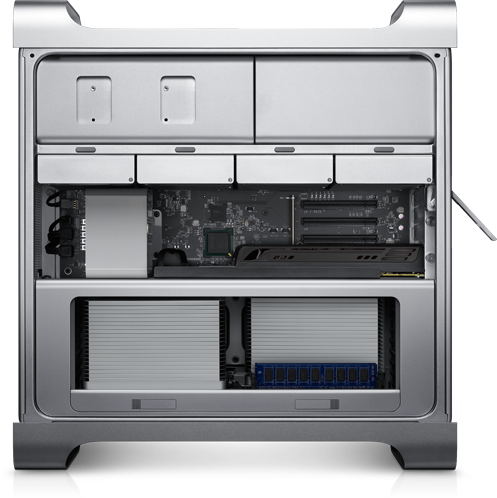 Despite the coming availability of a new generation of Sandy Bridge desktop CPUs suitable for advancing Apple's Mac Pro line, the company has reportedly been evaluating whether to continue to invest in furthering its full-sized workstation line beyond this year in the face of limited sales.
Although the Mac maker has reportedly developed a revision to the existing Mac Pro that may or may not see the light of day, people familiar with the matter said management as far back as May of 2011 were in limbo over whether to pour any additional resources into the product line.
According to these people, the consensus among sales executives for the Cupertino-based company was that the Mac Pro's days — at least in its current form — were inevitably numbered. In particular, internal discussions were said to focus around the fact that sales of the high-end workstations to both consumers and enterprises have dropped off so considerably that the Mac Pro is no longer a particularly profitable operation for Apple.
Another point reportedly raised during the discussions was that the advent of Apple's multi-use, high-speed Thunderbolt technology will ultimately allow other, more popular members of the Mac product family to assume the vast majority of the roles that once required the Mac Pro's and flexibility and architecture.
As it stands, notebooks currently make up a 74 percent share of the Apple's computer sales, according to sales figures and comments made by chief financial officer Peter Oppenheimer in the company's latest quarterly earnings conference call this month.
Quarterly Mac sales just set an all time record of 4.89 million units; the company noted that while desktops are an increasingly small proportion of overall sales, there were still record sales of desktops, represented primarily by the iMac.
At the same time, Apple made no comment of the sales or future of its Mac Pro line of full sized desktop systems, the only machines it continues to sell with internal PCI Express expansion slots. However, over the last year Apple has deployed Thunderbolt to all of its notebooks, iMac and the Mac mini. Thunderbolt provides the same signals as PCI Express slots over a high speed external interconnect.
Armed with Thunderbolt, Apple's notebooks and consumer desktops can accommodate fast external storage, multiple external displays and specialized peripheral devices, even connect to external housings that supply conventional PCI Express slots for expansion cards, negating one of the primary unique features of the Mac Pro.
Apple's existing iMac and Mac mini designs can't accommodate the fastest, high end processors and graphics that the Mac Pro can, but there appears to be an increasingly limited market for high end desktops, particularly in comparison to the mass market sales Apple is seeing with its iOS devices like the iPad (which now outnumbers all Mac sales combined), as well as the company's more consumer-oriented notebook and desktop Macs.
Apple could choose to offer a new high-end iMac or beefed up Mac mini that packs enough power to approach the performance current Mac Pro, greatly simplifying its product lineup while having a very limited impact on sales. That would save the company the efforts of having to design and maintain a tower system.
Several months ago, Apple began to retreat slightly on its Mac Pro sales efforts when it ceased regular shipments of the $4,999 12-core to channel partners. Only a handful of the company's U.S.-based authorized resellers continue to list the product as a special order item, while others have pulled the configuration from their product database entirely. Those who have kept the model in their systems, like Amazon, have for months listed the configuration as "currently unavailable," advising customers that it doesn't "know when or if this item will be back in stock."
A year ago, the company similarly abandoned sales of the Xserve in response to limited sales, after first backing away from the server market by discounting the Xserve RAID.
Apple has since recommended the Mac Pro as an alternative to the Xserve, but has also introduced a limited duty server model of the Mac mini. This summer, Apple released Mac OS X Lion Server as a $50 package in the Mac App Store, signaling an intent to continue its server product but aim it at a "prosumer" home/office audience, with easier to configure software that lacks some of the previous version's sophistication and complexity.
As AppleInsider exclusively reported during the sum mer of 2010, the company similarly retargeted its high end Final Cut Pro to serve a more mass market prosumer audience, allowing it to add major architectural improvements to the software while making it more approachable and more affordable to the mainstream pool of customers who were actually buying it.