Solar farm, 'spaceship' campus to help Apple expenses reach $8B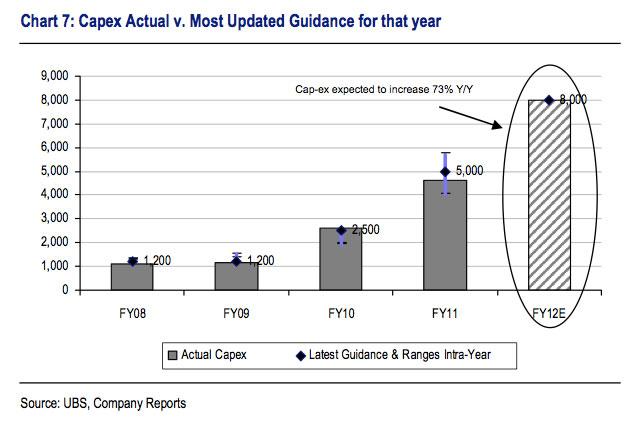 AppleInsider is supported by its audience and may earn commission as an Amazon Associate and affiliate partner on qualifying purchases. These affiliate partnerships do not influence our editorial content.
Apple's capital expenditures in its 2012 fiscal year are projected to increase by $3.4 billion, as the company gears up for major projects like its new solar farm in North Carolina, and a new corporate campus in Cupertino, Calif.
Last week, Apple issued its annual 10-K filing with the U.S. Securities and Exchange Commission. On Monday, analyst Maynard Um with UBS offered a closer look at the findings.
In particular, Apple expects to increase its capital expenditures 73 percent year over year in fiscal 2012. That will bring its projected expenses to $8 billion, significantly higher than the $1.2 billion the company projected back in 2009.
Um believes that a significant chunk of Apple's spending increase will be related to new construction projects the company is planning. For example, last week it was revealed that the company is planning to build a solar farm across from its massive data center in Maiden, N.C.
Apple's solar farm will be placed on 171 acres of vacant land on Startown Road. It will power the $1 billion data center that opened earlier this year and helps to power Apple's online services, including iCloud and iTunes.
Another major upcoming project for Apple that Um believes will contribute to increased expenses in 2012 is the company's new 13,000-employee campus in Cupertino. Work on the campus, dubbed a "spaceship" by late Apple co-founder Steve Jobs at a city meeting in June, is expected to begin in 2012, in preparation for an opening in 2015.
Other capital expenditure increases from Apple in 2012 will come from new retail expansions by the company. Apple has said it plans to build 40 new stores next year, with two-thirds of those overseas, helping to increase its retail capital expenses from $614 million to $900 million.