Apple planning solar farm opposite NC data center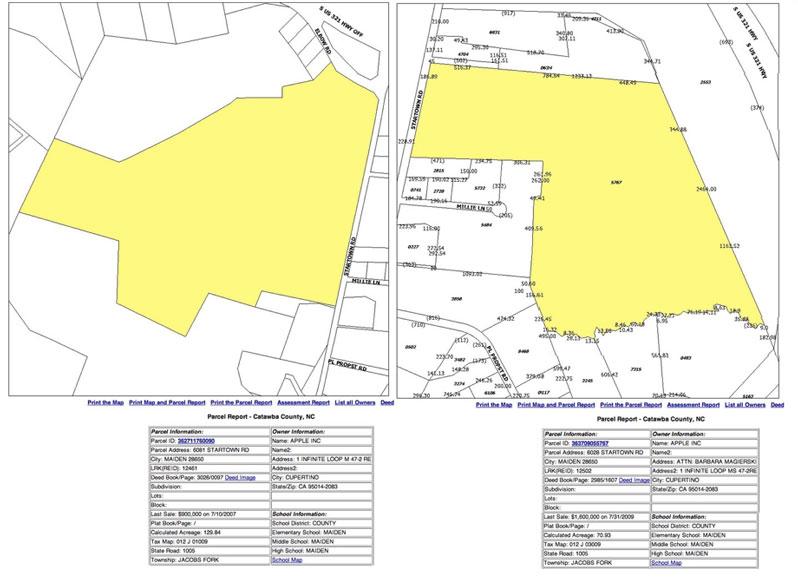 AppleInsider is supported by its audience and may earn commission as an Amazon Associate and affiliate partner on qualifying purchases. These affiliate partnerships do not influence our editorial content.
Local permits reveal that Apple is looking to build a solar farm across from its massive data center in Maiden, N.C., a move that could address criticisms environmental groups have leveled at the company.
Catawba County permits have been issued giving Apple approval to begin preparations for the solar farm, the Charlotte Observer reported on Tuesday (via MacRumors).
The approved lot is 171 acres of vacant land on Startown Road that Apple has acquired. Local rumors had initially suggested that the site would be used for office space.
According to the report, engineering plans have yet to show details about the solar farm, as the permit is simply an early erosion control permit. County engineer Toni Norton said more information about Apple's plans would come when the company applies for a building permit.
The plans do, however, refer to the undertaking as "Project Dolphin Solar Farm A Expanded." It had previously been revealed that the data center was codenamed "Project Dolphin."
In April, environmental activist group Greenpeace criticized Apple for relying on "dirty" energy for its data center. The group accused the company of locating its center in an area with one of the dirtiest electrical grids in the country. According to local reports, Apple's power supplier for the center is Duke Energy, which uses mostly coal and nuclear plants, though it does have solar arrays setup in the county.
Though Apple's plans for a solar farm could create goodwill among environmental groups, the company is currently upsetting residents with preparations for it. Hickory Record reports that smoke from the process of clearing the lot is bothering the neighbors.
"The [sic] told us they would have a fire, and only do it when the wind's blowing away," said Zelda Vosburgh. "They do it 24 hours a day. The house inside smells like smoke. I don't know if it's hurting us, breathing it 24 hours a day. Between the smell and the smoke, it's bad."
Vosburgh also said the smoke has increased wildlife activity around her house.
"It's pushed everything out of the woods into the area here, I had a snake on my steps," she said. "I've seen rabbits and squirrels everywhere."
According to her, Apple also burned property when it began construction of the data center two years ago.
Apple first announced its plans to build the server farm in Maiden, N.C. in July 2009. The $1 billion data center opened this spring and will support iTunes, MobileMe and Apple's new iCloud.
Rumors have also swirled that Apple plans to build a second data center next to the first. The current server farm already covers 500,000 square feet, an area five times larger than that of its data center in Newark, Calif.
Apple prides itself on using sustainable energy for its facilities, which include data centers. According to the company's website, just 2 percent of Apple's energy footprint comes from its facilities around the world. Currently, facilities in Austin, Texas; Sacramento, California; and Cork, Ireland use 100 percent renewable energy, saving as much as 21,500 metric tons of CO2e emissions.