Apple wants to improve OLED technology for potential use in future iPhones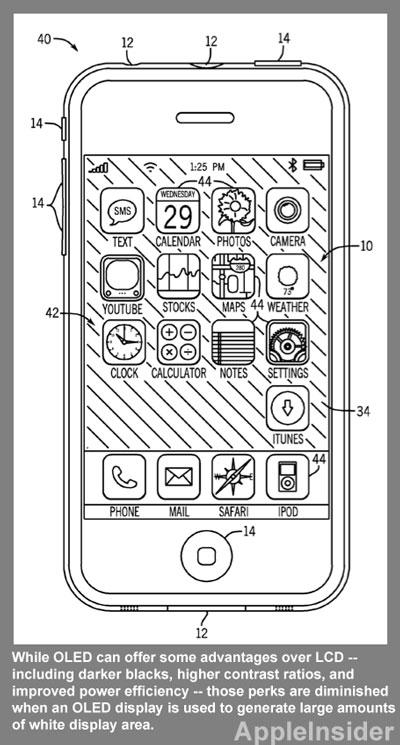 Apple has shown interest in improving the technology behind organic light emitting diodes, or OLED displays, to provide even better battery life for devices like the iPhone and iPad.
Apple's pursuit of better OLED technology was revealed this week in a new patent application discovered by AppleInsider. Entitled "Power Efficient Organic Light Emitting Diode Display," it describes ways in which an OLED screen could offer improved battery life, particularly when displaying the color white.
The filing notes that OLED screens can operate at lower voltages than traditional displays, like the LCD screens currently found on the iPhone and iPad. This is possible because OLED technology is light emissive rather than light transmissive.
But while OLED can offer some advantages over LCD — including darker blacks, higher contrast ratios, and improved power efficiency — those perks are diminished when an OLED display is used to generate large amounts of white display area.
In order to display a screen that is largely the color white, an OLED panel has to utilize a range of color channels for every pixel on the display. Doing this can be power intensive and make the device inefficient.
"The relative power inefficiency in display white spaces using an OLED display may be particularly problematic in certain contexts," the filing notes. "For example, certain applications, such as word processing, spreadsheet design and use, database design and use, e-mail, and other business or productivity applications, typically utilize dark or black alphanumeric characters on a white background, such as to simulate writing or printing on a sheet of paper.
"As a result, these applications may cause the display of large expanses of white background with relatively little area devoted to the non-white alphanumeric characters. Such applications, therefore, may make the use of OLED displays unsuitable or undesirably power intensive for battery powered and/or portable electronic devices, such as handheld devices."
Apple's proposed solution to this problem would include a transparent OLED display panel positioned in front of a solid white background layer, like a white transflective sheet. The display would also feature an opacity switchable layer located between the OLED panel and the background layer.
"The switchable layer may be switched, in whole or in part, from an opaque or semi-opaque state to a transparent or semi-transparent state," the application reads. "For example, in one embodiment, the switchable layer may be opaque, e.g. black, in the absence of a current. However, upon application of a current all or part of the switchable layer may be come transparent so that the underlying background layer is visible."
The combination of a solid white background and an opaque layer that could be made transparent would allow a transparent OLED panel to avoid displaying the color white. By instead utilizing the white background, this could produce the color when appropriate, such as when reading black text on a white background, without consuming battery life to turn the individual OLED pixels white.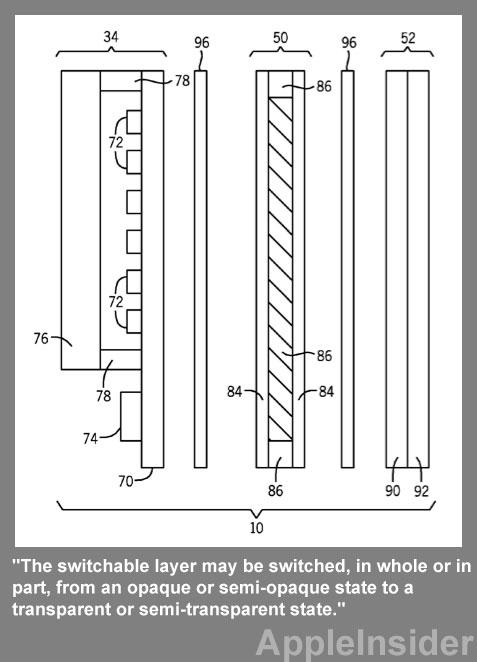 The white background could even be used for smaller elements on a screen, and applied even in situations where the entire background isn't white. In one illustration, Apple shows a list of calendar events on an iPhone, with one tiny element — the selected "List" view — displayed against a white background.
Apple's proposed invention, made public this week by the U.S. Patent and Trademark Office, was first filed in April of 2010. It is credited to Daniel William Jarvis, Albert John Golko, and Felix Jose Alvarez Rivera.