Lawsuit accuses Apple's iPhone 4S of violating VPN patent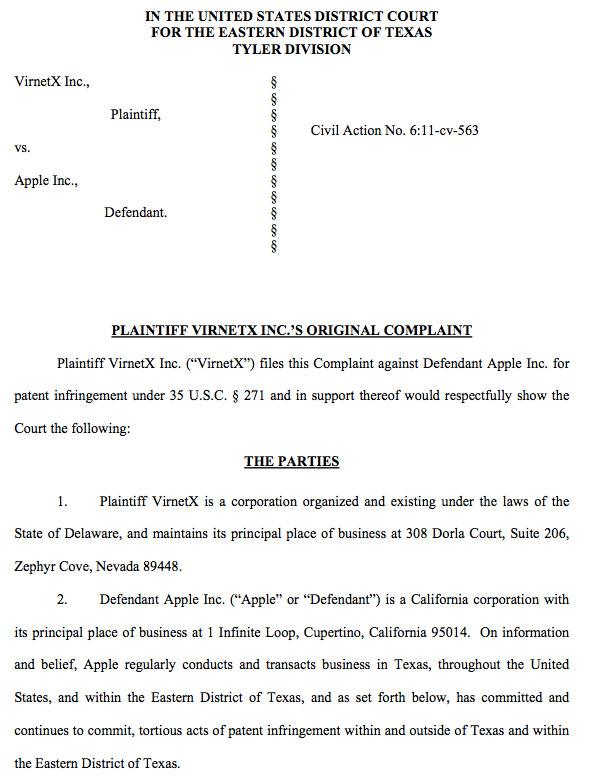 AppleInsider may earn an affiliate commission on purchases made through links on our site.
Apple is the target of a new lawsuit that asserts a number of the company's products, including the newly released iPhone 4S, infringe on a virtual private network patent.
The complaint, filed this week in U.S. District Court in the Eastern District of Texas, was lodged by VirnetX. It's the same company that won a $200 million settlement from Microsoft in a separate lawsuit 2010.
VirnetX's new lawsuit against Apple is related to one invention: U.S. Patent No. 8,05,181, entitled "Method for Establishing Secure Communication Link Between Computers of Virtual Private Network." It was awarded to the company, which is headquartered in Nevada, this week.
In fact, the plaintiff wasted no time in accusing Apple of violating its patent: the invention was awarded on Tuesday, Nov. 1, and the complaint against Apple was filed by VirnetX that very same day. The company originally filed for ownership of the invention with the U.S. Patent and Trademark Office in February of 2007.
The invention describes a technique "for establishing a secure communication link between a first computer and a second computer over a computer network." This is accomplished by establishing a "secure communication mode of communication" at a first computer without the need for the user to enter any cryptographic information.
The system relies on a "pseudo-random sequence" of varying data values to secure a communication link between two computers. These sequences are included in each data packet to properly encrypt the data to establish a secure connection.
VirnetX's complaint asserts that the iPhone 4S, iPhone 4, iPad 2, iPod touch, and Mac systems that run Lion, the latest version of the Mac OS X operating system, infringe upon the '181 patent. Lead attorney Douglas A. Cawley with the law firm McKool Smith seeks an injunction against Apple, and also believes that his client, VirnetX, is entitled to damages.