Apple now taking orders for unlocked, contract-free iPhone 4S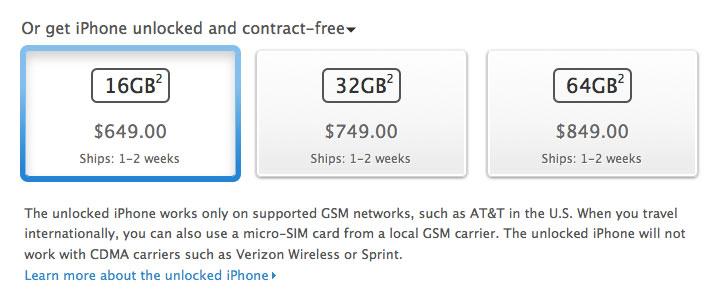 AppleInsider is supported by its audience and may earn commission as an Amazon Associate and affiliate partner on qualifying purchases. These affiliate partnerships do not influence our editorial content.
U.S. customers who were holding out for an unlocked iPhone 4S can now order their handset contract-free from Apple's online store.
The unlocked iPhone 4S starts at $649 for the 16GB model, while customers can also get a 32GB option for $749, or 64GB for $849. All three models are estimated to ship within one to two weeks when ordered from Apple's online store.
The unlocked iPhone 4S is only supported on GSM networks, like AT&T in the U.S. Users can also obtain a micro-SIM card to use on overseas carriers when traveling abroad.
Customers of CDMA networks, like Verizon and Sprint, should not buy the unlocked iPhone 4S, because it cannot be activated on their networks, even though the iPhone 4S is a "world phone" compatible with both GSM and CDMA networks.
"If you don't want a multiyear service contract or if you prefer to use a local carrier when traveling abroad, the unlocked iPhone is the best choice," Apple's official product description reads.
"It arrives without a micro-SIM card, so you'll need an active micro-SIM card from any supported GSM carrier worldwide. To start using it, simply insert the micro-SIM card into the slot on your iPhone and turn it on by pressing and holding the On/Off button for a few seconds. Then follow the onscreen instructions to set up your iPhone."
The company warns that a credit check may be required for customers to buy the unlocked iPhone 4S, and the handset is only available to buy for customers who are 18 or older.
Apple first revealed that the new iPhone 4S would be sold unlocked and contract-free in October. The sale of the unlocked iPhone 4S at Apple's online store in the U.S. means the company met is previously promised deadline of November.
The unlocked iPhone 4S arrives five months after Apple began selling the GSM iPhone 4 unlocked in June. The contract-free iPhone 4 also carried a starting price of $649 for 16GB.
In addition, as of Friday U.S. carrier Sprint is now SIM-locking all iPhone 4S handsets to its network during the activation process, according to Sprintfeed (via MacRumors). Apple's online store has already been warning customers with the message: "Your iPhone will work only with the carrier you choose."