Apple's first-party 'Texas Hold'em' game removed from iOS App Store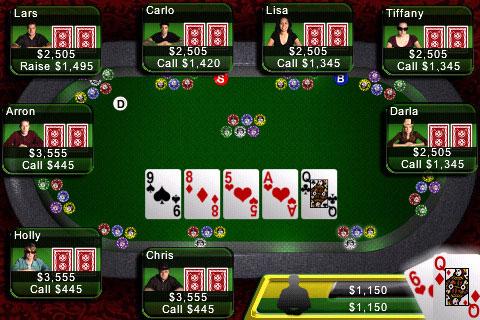 AppleInsider is supported by its audience and may earn commission as an Amazon Associate and affiliate partner on qualifying purchases. These affiliate partnerships do not influence our editorial content.
"Texas Hold'em," the only game made by Apple itself for the iPhone and sold on the iOS App Store, has been removed and is no longer available for purchase.
First launched in the App Store since 2008 with a $4.99 price tag, the "Texas Hold'em" game developed by Apple is no longer available. Its removal was first noticed on Thursday by MacRumors.
Though "Texas Hold'em" was the only game Apple released for the iPhone, it was not the first title the company released for its portable devices. In fact, the poker game was first launched in 2006 for the iPod classic, and utilized the device's click wheel.
Apple stopped selling its iPod click wheel games earlier this year, in a similar move where the content was quietly removed from the iTunes Store.
Over the years there were signs that Apple was interested in creating more original games for the iOS App Store. In 2009, AppleInsider discovered that the company was looking to hire a first-class game developer to work at its Cupertino, Calif., headquarters.
And in August of 2010, one rumor claimed that Apple was close to acquiring a Chinese mobile Internet service provider and game developer for $148 million. However, there was never any actual indication that Apple purchased, or even considered buying, Handseeing Information Technology Co.
Instead of developing its own games, Apple has chosen to concentrate on its iOS ecosystem and the App Store where third-party developers can make their own blockbuster titles, like "Angry Birds," "Plants vs. Zombies," and "Flight Control." Apple has supported its developers with Game Center, a social networking service that lets users track their friends' progress in titles and even play games against each other head-to-head online.