Apple still No. 1 manufacturer in growing US smartphone market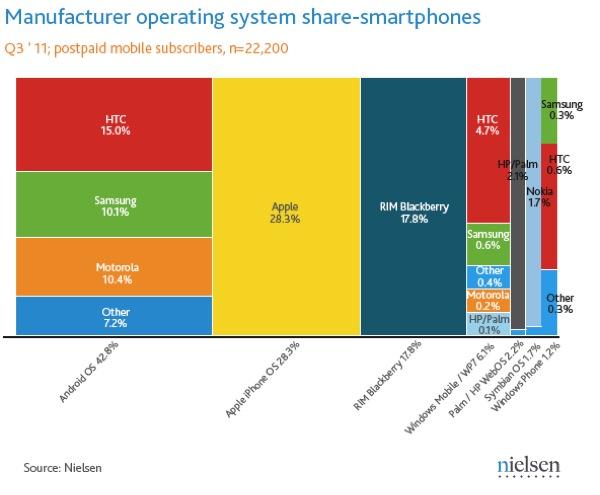 AppleInsider may earn an affiliate commission on purchases made through links on our site.
While smartphones sales continue to grow in the U.S., accounting for 56 percent of all cellphone sales in Q3, Apple remained the top individual device maker despite buyers holding out for October's iPhone 4S release.
According to findings released on Tuesday by Nielsen, Apple retained its place as the largest smartphone manufacturer in the U.S. in the third quarter with a nearly 30% share, while the overall market continues to shift toward smart devices, reports Fortune.
The Android and iOS mobile platforms dominate the expanding smartphone market with a 71.1% share, holding 42.8% and 28.3% respectively. Nearly half of all mobile users in the U.S. now own a smartphone, with the devices accounting for 56% of handset purchases made during the quarter ending in September.
RIM's BlackBerry platform came in third with 17.8%, and was followed by Microsoft's Windows Mobile platform, HP's Palm/webOS, Symbian and the fledgling Windows Phone.
In the segmented OS marketplace, Apple's third quarter performance was followed by HTC with a 20.3% share. It should be noted, however, that the Chinese manufacturer's slice of the market includes units running not only Android, but also Microsoft's Windows Mobile and the newer Windows Phone platforms.
Blackberry's third place finish was followed by Samsung's various offerings, which garnered the Korean company a 10% market share. Rounding out the top five was Motorola with 10.6%.
App downloads in the third quarter saw Google and Apple enjoying the lion's share of activity, with a combined total of 83% of all downloads made in the past month coming from Android and iOS devices.
The findings point to a download ratio that is disproportionate to its user base, though an obvious lack of apps from RIM and a transitioning Windows mobile platform partially explain the disparity.
Recently, Google revealed that the company "wasn't happy" about the rate of Android app sales, and hinted at upcoming changes that would bring its online store more in line with Apple's.
Android's proliferation in the mobile space is expected to push app downloads past those of iOS, though AppleInsider recently reported that Google's revenue from its app store is grossly outpaced by Apple's model.