Rumor: Apple axed 'evolutionary' 64-bit Final Cut Pro 8 for 'revolutionary' FCPX [u]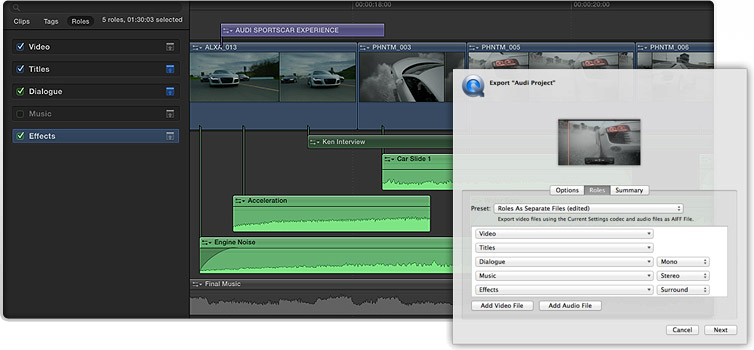 Apple may have canceled production of an "evolutionary" 64-bit Final Cut Pro 8 update in favor of what it viewed as a "revolutionary" update with what eventually became the controversial Final Cut Pro X [updated].
Richard Harrington, founder of RHED Pixel, said in a recent talk that Apple killed production of a 64-bit Final Cut Pro 8 after officials with the company were not satisfied with what they saw. Harrington's comments, discovered by fcp.co and highlighted by Cult of Mac, were made in reference to American University's decision to train its students in Final Cut Pro X.
"There was a Final Cut Pro 8, and it was 64-bit and it was done," Harrington said. "And they looked at it and said, 'This is not what we want to do. This is evolutionary, this is not revolutionary.' And they killed it."
Update: Harrington later provided clarification via Twitter, saying he did not hear the information first-hand, but rather that it was simply a rumor passed along with an off-hand comment.
"Comment was misunderstood," he wrote. "I just heard efforts were well underway then killed."
The video has since been pulled from the Web. But if the rumor is accurate, it's an indication that Apple originally considered following along the same path as Final Cut Pro 7, before it decided to take its professional video editing software in an entirely new direction.
Those considerable changes made in Final Cut Pro X rubbed many video professionals the wrong way when the new $299 software was released this June. Apple also worked quickly to release an update for Final Cut Pro X to add some of the most requested features, like Xsan and Rich XML support.
Apple has also promised that it will add multicam editing and broadcast-quality video monitoring to Final Cut Pro X in early 2012. The software has also been made available for a 30-day free trial to let professionals try before they buy.
The changes in Final Cut Pro X caused a significant controversy in the video editing and production business. The attention became so great that even comedian Conan O'Brien had a bit on his show poking fun at the new software.
Apple also responded to customer dissatisfaction by offering refunds, and the company even offered some customers the ability to buy the previous generation Final Cut Pro Studio with Final Cut Pro 7 for $999. Sales of Final Cut Pro Studio were made available only over the phone, and were said to be in "limited quantity" for customers who needed the older software for ongoing projects.
AppleInsider first reported in May of 2010 that Apple was scaling Final Cut Studio applications with a significant makeover that would better target Apple's mainstream "prosumer" customer base, rather than high-end professionals. After the public release of Final Cut Pro X, some in video editing circles began to deride the software with the name "iMovie Pro," referring to Apple's consumer-oriented video editing software, iMovie.