Dissatisfied Final Cut Pro X customers receive refunds from Apple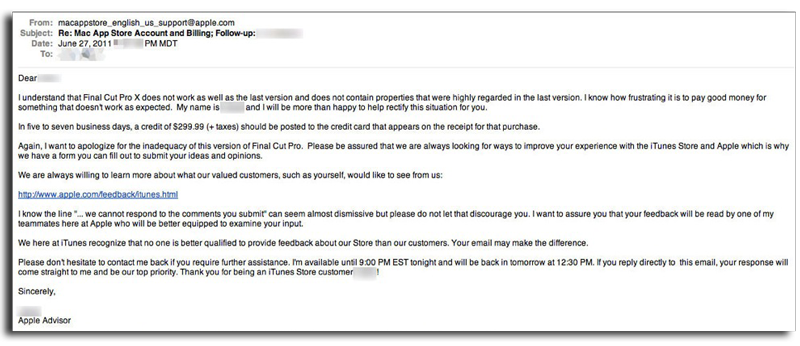 Facing backlash from customers who are unhappy with the revamped Final Cut Pro X, Apple has issued at least some refunds for the $299 Mac App Store purchase.
Various claims of refunds have surfaced, and AppleInsider can confirm that at least one person who asked a refund from Apple had their request granted.
This person sent an e-mail to Apple in which they said they believe the new Final Cut Pro X is not a "functional application" meeting the standards of Final Cut Pro 7. "It has zero professional features that I can use in my post facility," they wrote.
In their response, an Apple advisor admitted Final Cut Pro X "does not contain properties that were highly regarded in the last version." They also acknowledged that it is "frustrating" to pay "good money" for a product that "doesn't work as expected."
The customer was promised a credit for the $299.99 purchase made on the Mac App Store. It was said that the funds should be posted to the credit card on the receipt for the purchase within five to seven business days.
"Again, I want to apologize for the inadequacy of this version of Final Cut Pro," the advisor wrote. "Please be assured that we are always looking for ways to improve your experience with the iTunes Store and Apple."
The candid nature of Apple's response and apology was surprising to the person who received the refund. "I've never seen an Apple employee apologetic over the 'inadequacies' of their software before," they wrote to AppleInsider.
The prospect of refunds for other Final Cut Pro X purchases is the latest public relations strategy from Apple in attempting to quell unhappiness with the latest version of Final Cut Pro. As of Tuesday afternoon, the software on the Mac App Store has an average user rating of two-and-a-half stars out of a possible five, and of the 1,275 ratings collected, 563 are for just one star.
One popular review posted on the Mac App Store refers to Final Cut Pro X as Windows Vista, referring to Microsoft's much maligned operating system update. "I can't believe what apple did with FCPX," they wrote, "this is no longer a professional application... this is just an upgrade of iMovie!!"
Final Cut Pro X was released along with Motion 5 and Compressor on the Mac App Store a week ago. The software was quickly met with condemnation from a group of outspoken professionals who believe the new product is vastly inferior to its predecessor.
Apple made a quick transition to Final Cut Pro X, declaring Final Cut Studio, Express and Server — which included Final Cut Pro 7 — as "end of life" products as of June 21. AppleInsider first reported in May of 2010 that Apple planned to widen the appeal of Final Cut Pro with features geared toward "prosumers" and more advanced home users.
A growing chorus of complaints even prompted some Apple product managers to attempt to address concerns over Final Cut Pro X late last week. A number of product managers spoke with The New York Times, and revealed that features like multicamera editing and support for RED digital cameras will be added with future updates.