iPhone 4S is Apple's most popular phone yet with 96% satisfaction rate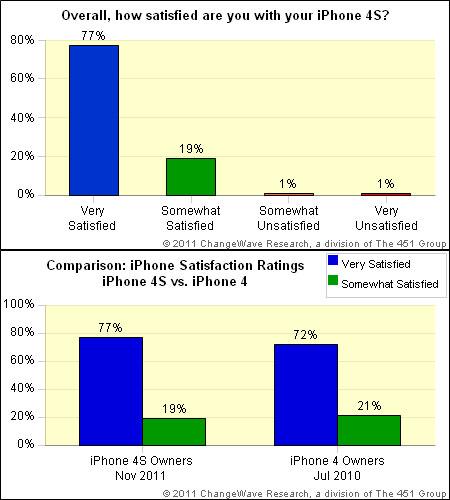 The iPhone 4S carries the highest customer satisfaction ratings of any Apple smartphone yet, with a new survey finding that 96 percent of users consider themselves satisfied with their purchase.
The latest data from ChangeWave Research, released on Thursday, shows that 77 percent of respondents indicated they are "very satisfied" with their iPhone 4S. Another 19 percent said they are "somewhat satisfied," while just 2 percent fell into the "unsatisfied" category.
That compares to a survey conducted just after the launch of the iPhone 4, when 72 percent of Apple customers indicated they were "very satisfied" with their purchase, and 21 percent chose "somewhat satisfied." By besting the iPhone 4, the iPhone 4S has become Apple's most popular phone yet, garnering the highest approval ratings.
Customers were also asked what their favorite specific features of the iPhone 4S are, and Siri came in first with 49 percent. Second place was ease of use with 39 percent, and the new 8-megapixel camera took third with 33 percent.
Faster Web browsing, powered by the A5 chip in the iPhone 4S, was the fourth most popular feature at 24 percent, the high-resolution Retina Display took fifth with 23 percent, and the newly launched iCloud service was in sixth with 19 percent.
As for what users don't like about the iPhone 4S, 38 percent said their most disliked feature is that the battery life is too short. Apple has already issued one update in an attempt to address battery life bugs, and the company is already at work on another update in the form of iOS 5.1.
ChangeWave took a closer look at the dropped call issue and found that only 8 percent of iPhone 4S owners said it was a "very big problem." Another 20 percent indicated battery life on the iPhone 4S was "somewhat of a problem.
The second most disliked aspect of the iPhone 4S is its lack of high-speed 4G data connectivity, 30 percent of respondents said. Coming in third was the screen size at 11 percent, network coverage took fourth with 9 percent, and excessive dropped calls was at 8 percent.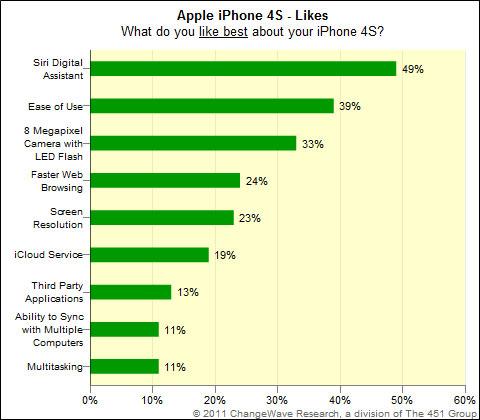 With regard to dropped calls, the survey also found that the dropped call rate on the iPhone 4S is about half that of the iPhone 4. That number was aided by the inclusion of Verizon as a carrier at launch, as ChangeWave found that Verizon iPhone 4S users experienced significantly fewer dropped calls than those on AT&T.
The survey was conducted Nov. 2 through Nov. 9 and a total of 215 iPhone 4S owners were polled.