Class-action Carrier IQ suit targets Apple, HTC, Samsung, carriers & more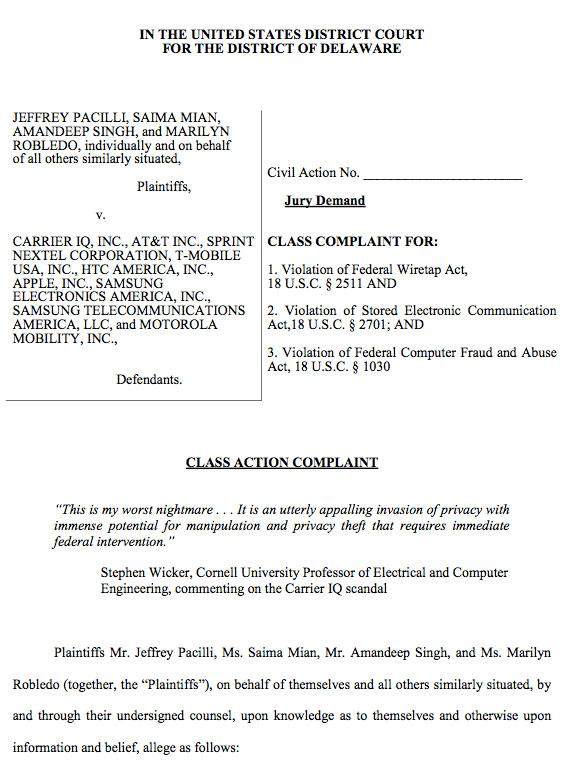 AppleInsider may earn an affiliate commission on purchases made through links on our site.
Apple is one of a laundry list of companies that have been targeted in a new class-action lawsuit over the Carrier IQ software data logging controversy.
Joining Apple among the list of defendants in the new lawsuit filed by Delaware-based Sianni & Straite LLP are fellow device makers HTC, Samsung and Motorola. In addition, U.S. carriers AT&T, Sprint and T-Mobile have been targeted for selling phones that include Carrier IQ software.
The class-action suit was filed in federal court in Wilmington, Del., accusing the companies of an "unprecedented breach in the digital privacy rights of 150 million cell phone users." The three carriers and four smartphone manufacturers targeted are charged with violating the Federal Wiretap Act, the Stored Electronic Communications Act, and the Federal Computer Fraud and Abuse Act.
"Defendants Samsung, Apple, Motorola, and HTC pre-install Carrier IQ software on cell phones used by its customers on the AT&T, T-Mobile and Sprint networks," the complaint reads.
Carrier IQ and its software gained attention last week when Trevor Eckhart, a security researcher, found that it runs in the background on a stock HTC handset, even if the phone is in airplane mode and operating over Wi-Fi. The Carrier IQ software was tracked logging every action on the device, including keys pressed and numbers dialed.
Apple issued a statement to say that Carrier IQ has not been a part of "most of its products" since the release of iOS 5 in October. Inactive remnants of the Carrier IQ software do remain in iOS 5, but Apple has said they will be removed entirely in a future software update.
In addition to the new class-action lawsuit, Apple is also under scrutiny from German regulators, who made a formal request last week to Apple for more information. But while Apple has apparently moved away from Carrier IQ with the release of iOS 5, a number of handset currently available running the Google Android operating system have been found to run the data logging software.
Google has distanced itself from the controversy and stated that it does not include Carrier IQ software in its own devices that run the stock version of Android, including Nexus phones and the Xoom tablet. However, because Android is open source, carriers can require that hardware makers, like HTC and Samsung, include Carrier IQ on the devices they ship.
Carrier IQ has said that it's the carriers who decide what data is being collected and how long it is stored. AT&T, Sprint and T-Mobile have said they rely on Carrier IQ's data to improve wireless network performance, while Verizon — which was not named in the class-action suit — has denied that it uses Carrier IQ in any of its handsets.