UBS now sees Apple selling record 30 million iPhones in Dec. quarter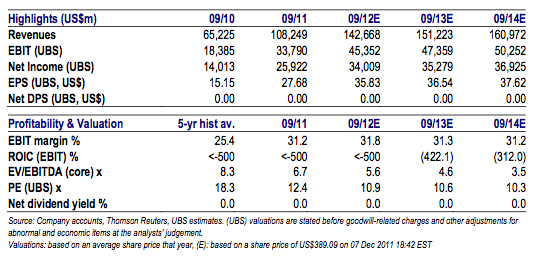 AppleInsider may earn an affiliate commission on purchases made through links on our site.
Investment bank UBS now believes Apple will sell as many as 30 million iPhones in the December quarter, up from a previous estimate of 28 million.
UBS analyst Maynard Um joined a chorus of analysts in raising iPhone estimates this week on the apparent strength of sustained demand for Apple's handset. The firm bumped its projections in part because of AT&T's announcement that it expects its best smartphone quarter ever, largely due to sales of the iPhone 4S.
As for iPads, Um kept his original estimate of 12 million units in the fourth quarter of calendar 2012, though he did note that he sees the general consensus of 13 million iPads as "achievable" given the expected seasonal boost during the holidays.
However, the firm said its more conservative estimate for iPad shipments is due to its belief that "there might be a slight shift in consumer preference to the company's Macbook computers." Pointing to current "consumer wallet constraints" due to economic woes, Um said customers may not be able to buy multiple Apple products simultaneously and could instead elect to purchase larger ticket items with more functionality.
In light of the expected iPhone upside, UBS raised its revenue estimates to $38.5 billion, up from $37.2 billion. The firm now expects earnings per share to reach $9.90, compared to a previous projection of $9.47. For fiscal 2012, Um sees Apple bringing in $142.7 billion in revenue and $35.83 EPS.
The firm maintains its buy rating for shares of Apple with a $510 12-month price target.
As holiday iPhone sales have come into full swing, a number of financial analysts have increased their sales projections for the device. Sterne Agee analyst Shaw Wu raised his forecast for iPhone sales to 28 million on Wednesday based on checks with Apple's global supply chain. He sees iPhone remaining strong across the board, including the older iPhone 4 and iPhone 3GS. J.P. Morgan also recently revised its forecasts to predict Apple as shipping 28 million iPhones this quarter.
Ticonderoga Securities' Brian White noted Tuesday that Apple had its best November ever, according to supply chain checks. White's "Apple Barometer" index of the company's Taiwan-based suppliers jumped up 17 percent month over month, an impressive number, given that average sequential growth for the past six years has stood at 2 percent.
Apple itself has said it is confident that iPhone sales will reach an all-time high this quarter. The iPhone 4S is already off to a record start after Apple sold four million units in its first three days of availability, more than double the amount of last year's iPhone 4 launch.
While analysts are generally in agreement that Apple will post record iPhone sales this quarter, they also agree that the iPad may see limited growth this quarter. Wu revised iPad estimates down from 15 million to 13.5 million on Wednesday, while J.P. Morgan's Mark Moskowitz has dipped his projection from 13.3 million to 13.0 million. Um's 12 million unit forecast remains on the lower end of estimates when compared with his colleagues' predictions.