Sony's PlayStation Vita launch tripped up by bugs; Android 4.0 update on hold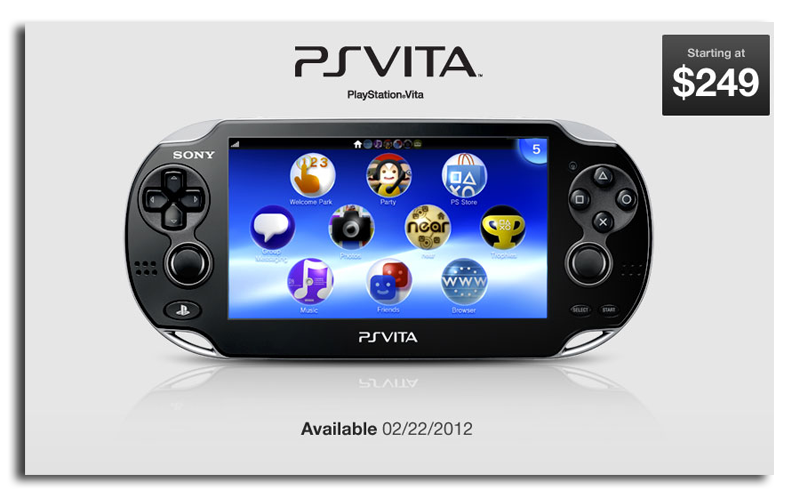 The launch of Sony's PlayStation Vita was marred by technical issues that required an immediate system update, while Google has placed its Android 4.0 "Ice Cream Sandwich" update for the Nexus S on hold in some regions as it monitors a potential battery drain issue.
Sony launched its latest handheld gaming device in Japan on Saturday, with estimated sales of 321,407 units in the first two days of availability, according to magazine publisher Enterbrain (Google Translation).
Assuming the numbers are accurate, the launch failed to best sales figures from rival Nintendo's 3DS launch there earlier this year, which sold 371,326 units in its first two days. Given that Nintendo's 3DS launch has been viewed as a failure, the Vita launch has been characterized as disappointing.
ComputerWorld reports that Sony may have shipped an extra 200,000 Vita units in preparation for the launch, bringing the estimated shipment total to 700,000 units. The company's original handheld, the PlayStation Portable, saw first-day sales of 166,074 when it launched in 2004.
The launch was further troubled by the fact that a number of customers who purchased the Vita found themselves unable to use it. According to the report, issues included "device crashing, lagging during gameplay, frequent freezes and problems registering a PlayStation Network account."
Sony apologized for the problem and quickly issued a system update. However, some users were prevented from downloading the update because of bugs with connecting to the PlayStation Network.
The Vita, which boasts a 5-inch OLED touchscreen and a quad-core graphics processor, is set to arrive in the U.S. and Europe next February. But, the new handheld faces an uphill battle in the States, where smartphone platforms from Apple and Google have captured a 58 percent share of portable game revenue.
After frustrated Nexus S users took to Google's support forums to report problems updating to Android 4.0 Ice Cream Sandwich, an employee at the Mountain View, Calif., software giant explained that the update had been put on hold in some regions, as reported by Electronista.
"If you received an update notification a little while ago but the update isn't currently available for your phone, this is likely the result of Google pausing the update in your area while we monitor feedback," Community Manager Paul Wilcox wrote. "The Android 4.0 update is continuing to roll out around the world so your phone will receive another update notification when it's available again in your region."
Meanwhile, some Nexus S users experienced a "different scenario" where the update would download but refused to install. Wilcox said he was looking into the issue.
The Nexus S was last year's lead device from Samsung and Google for Android 2.3 Gingerbread. It featured a curved glass display and a near-field communications chip.
Google began rolling out the over-the-air update to Nexus S users last week, but reports quickly surfaced that Android 4.0 was causing unusually high battery usage. Users of the new Galaxy Nexus, the first smartphone to feature Android 4.0, have also reported battery issues after a recent software update.
Apple has also faced its own battery woes with its latest handset. After early adopters of the iPhone 4S reported battery life issues, the company promised a software update to resolve the problem. iOS 5.0.1 arrived in November to fix the bug, but some users reported that the issue persisted even after updating. Apple responded by saying it is investigating the "few remaining" battery-related issues.