Launch of Apple's Newsstand in iOS 5 accelerates magazine sales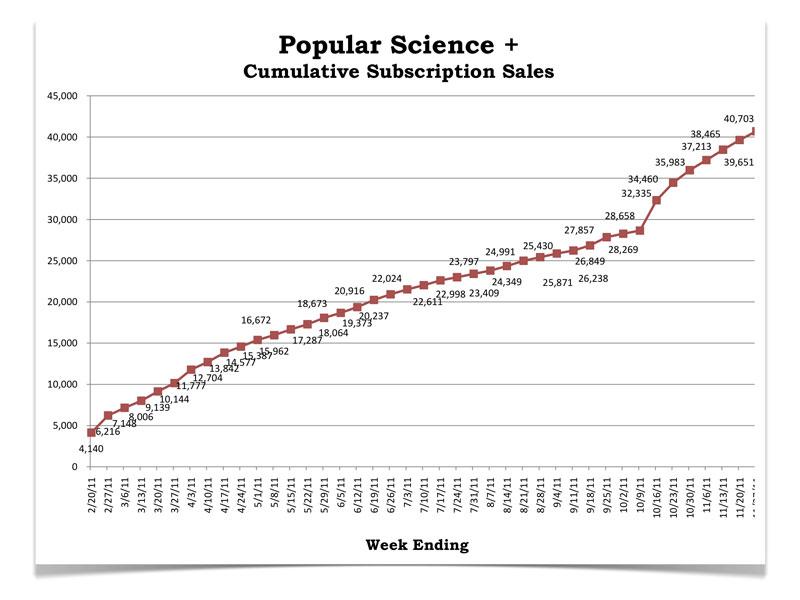 AppleInsider may earn an affiliate commission on purchases made through links on our site.
The launch of Apple's Newsstand storefront and dedicated folder in iOS 5 has not only boosted, but also accelerated subscription rates for one prominent magazine.
Popular Science +, the digital publication produced for iPad by Mag+, saw its sales leap 13 percent in one week after Newsstand debuted in October. But as noted by Peter Kafka of All Things D, what's even more promising for the publication is the fact that the magazine's growth continued to pick up after that launch week with more velocity.
Cumulative subscription rates for Popular Science + leapt from 28,658 to 32,335 immediately following the launch of Newsstand. In the following weeks, subscriptions continued to grow at a faster rate, and eventually reached more than 40,000 by early October.
The new numbers from Mag+ are the first time concrete numbers have been released to show the effect the launch of Newsstand has had on digital publications. In October, soon after the launch of iOS 5, Conde Nast revealed that Newsstand has boosted subscription sales by 268 percent on the iPad, though longer term trends have not been revealed.
Apple unveiled the Newsstand feature in June as part of the first public preview of iOS 5 at the Worldwide Developers Conference. In addition to a dedicated storefront and folder, it also allows publications to automatically download updated content in the background.
Users can also sign up for recurring subscriptions to publications on the iPhone or iPad, and ongoing charges will be added to their iTunes account and accompanying credit card. Apple takes a 30 percent cut of subscriptions placed through the App Store, which has kept some major publications like The Wall Street Journal from adopting Apple's subscription policies or making their application available in Newsstand.