Apple explains iTunes Match with video, FAQ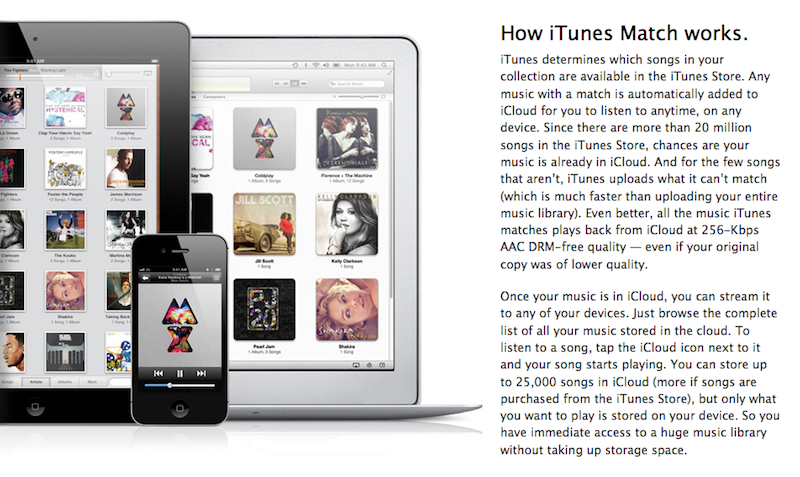 AppleInsider may earn an affiliate commission on purchases made through links on our site.
Apple has posted several resources, including an instructional video and answers to frequently asked questions, on its website to clarify its iTunes Match music service.
The Cupertino, Calif., company added the information to the iTunes Match section of its website, as noted by MacNN on Monday.
The new video demonstrates how the $24.99 a year service works by way of a walkthrough showing how to activate the service on iTunes, wait for iTunes Match to match songs, and then turn on the service on an iOS device or an Apple TV.
"With iCloud and iTunes Match, your music is always where you want, when you want it," the video noted.
Apple's FAQ clarified that iTunes Match requires iTunes 10.5.1 on a PC or a Mac, iOS 5.0.1 on an iPhone 3GS or later, a third- or fourth-generation iPod touch or an iPad. The service can read AAC, MP3, WAV, AIFF, Apple Lossless and other music formats. Up to 10 devices, including computer, iPhone, iPad, iPod touch and Apple TV, can be synced with iTunes Match.
The FAQ also addresses whether iTunes Match will stream music. According to Apple, computers will be able to stream songs stored in iCloud. iOS devices will begin playing tracks while they download, and the Apple TV will only stream songs. Testing during the beta phase of iTunes Match had appeared to suggest that the service would support streaming to iOS devices, but Apple quickly clarified that songs would need to be downloaded to mobile devices from iCloud.
Apple has also cleared up confusion on whether upgraded songs will be preserved if a user allows the iTunes Match subscription to lapse after a year.
"Any songs you've upgraded or downloaded again are completely safe. The only thing you lose is the central storage — iCloud will no longer stream or download matched or uploaded songs to your devices," the FAQ read.
After a slight delay, iTunes Match launched in the U.S. in November. The service began rolling out internationally earlier this month and is currently available in 17 countries.
Though analysts don't expect Apple to make much money off iTunes Match, they do see it as an important part of the company's strategy. Piper Jaffray analyst Gene Munster believes Apple will roughly break even on the service while further tying customers to its iTunes ecosystem and iOS devices.