Apple launching iTunes Match internationally in UK, Europe, Australia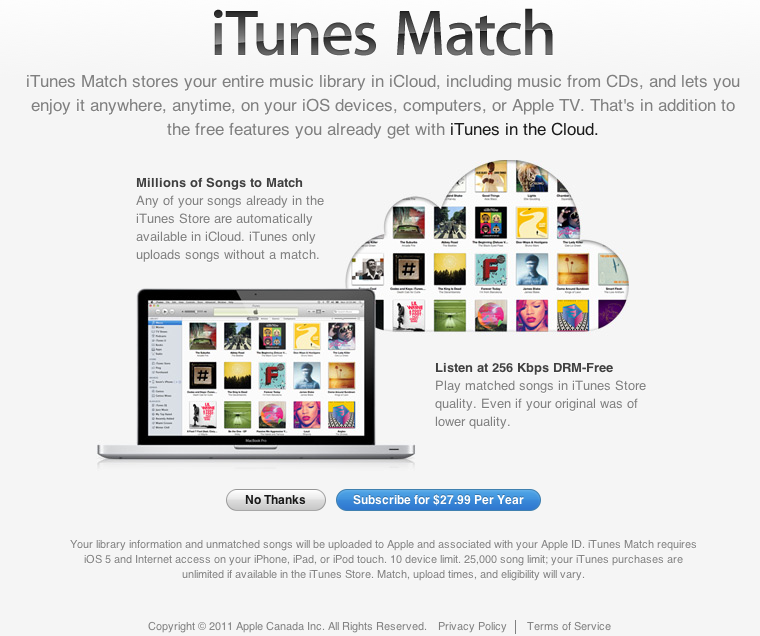 AppleInsider may earn an affiliate commission on purchases made through links on our site.
On the heels of the arrival of iTunes Match in Brazil, Apple on Wednesday began rolling out its new music service to a number of other countries, including France, the U.K., Australia and New Zealand, though some users report having trouble activating it.
Apple launched iTunes Match in the U.S. in mid-November, a couple weeks later than originally planned. Announced in June, the $24.99-per-year service allows users to match up to 25,000 songs from their iTunes music collection with songs on the iTunes Music Store, thereby making matched songs available in iCloud.
Reports emerged around the world Wednesday evening that the service was gradually going live in a range of countries. According to TheNextWeb, iTunes Match prices range from £21.99 in the U.K., €24.99 in France and AUD$39.99. The service also appears to have arrived in Canada for CAD$27.99.
However, there appear to be some early problems with the launch, as a number of users report being unable to sign up for or access the service yet. The issues are likely just kinks in the system as the service goes live, as customers in Brazil reported a similar experience when iTunes Match arrived there earlier this week, but it's also possible that the launch was accidental.
Analysts don't expect Apple to make much profit off the service, but they do see it as an important opportunity for the company to further develop its iTunes ecosystem. Piper Jaffray analyst Gene Munster recently called projected revenue from iTunes Match "immaterial," likening it to the iTunes Music Store and App Store, which are meant to drive hardware sales while earning modest profits.