iTunes Music, Movies Stores arrive in Latin America; O2 offers iPhone 4S leasing [u]

AppleInsider is supported by its audience and may earn commission as an Amazon Associate and affiliate partner on qualifying purchases. These affiliate partnerships do not influence our editorial content.
Brazil and 16 other Latin American countries are now offering music and movies from Apple's iTunes Store, while U.K. wireless operator O2 has come up with an iPhone leasing scheme that allow customers to rent the iPhone 4S for a year.
AppleInsider readers in Brazil reported on Monday that music and movie sales had been added to Apple's digital storefront, joining pre-existing sales of apps and books, as well as iTunesU and podcast offerings. As expected, iTunes is prominently promoting the music of Roberto Carlos, known as the "King of Latin Music."
One surprise to Monday's launch, however, is the arrival of iTunes Match in Brazil, believed to be the first international release of Apple's new music matching service.
16 other Latin America countries have also received the iTunes Music Store: Argentina, Bolivia, Brazil, Chile, Colombia, Costa Rica, Dominican Republic, Ecuador, El Salvador, Guatemala, Honduras, Nicaragua, Panama, Paraguay, Peru, and Venezuela, according to a list compiled by MacRumors. Recent reports had said the iTunes Music Store would roll out across Latin America this month.
Apple's revenue has surged in Brazil as of late, jumping up 118 percent year over year past the $900 million mark in the September quarter. The company's growth is expected to accelerate as Foxconn readies production of the iPhone and iPad in the country. Apple's manufacturing partner has considered investing as much as $12 billion in its Brazilian facilities, though negotiations between Foxconn and the government have at times been rocky.
The iPhone 4S is set to launch in Brazil on Dec. 16, alongside launches in Russia, Taiwan Malaysia, Saudia Arabia, South Africa and the Philippines.
O2 has come up with a solution for customers who want to upgrade to Apple's latest iPhone each year, but, in order to do so, interested users will have to relinquish ownership of their smartphones. The new program, dubbed O2 Lease, is being billed as the U.K.'s first smartphone leasing service, the Inquirer reported on Monday.
"This is the first time a UK mobile operator has adopted a leasing model," Sally Cowdry, marketing and consumer director at O2 said. "We know that customers and small businesses are used to leasing everyday items from cars and washing machines to photocopiers and office space. They understand how it works and what the advantages of a leasing are. We have simply taken this idea and applied it to the smartphone market."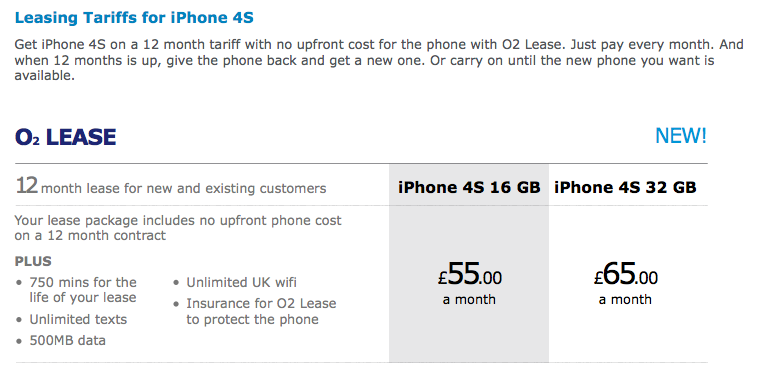 O2 called the service "the first tariff model available to all O2 customers that reflects the lifecycle of the smartphone industry." The carrier does continue to offer subsidized purchase options for the iPhone 4S with 12-, 18- or 24-month contracts.
Customers will pay £55 ($86) a month for one year in exchange for a 16GB iPhone 4S with 750 minutes of talk time, unlimited text messages, 500MB of mobile data and insurance, according to the report. An extra £10 a month will be charged for the 32GB model. At the end of the year, the customer will return the phone to O2 and can then rent the latest model.
The scheme will initially only be available for the iPhone 4S, but could expand to other handsets if it is successful, the carrier said.