Planned landmark Madrid Apple Store to be larger than Fifth Ave location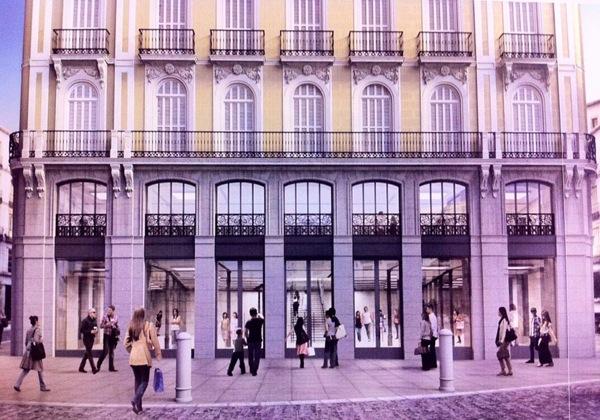 Apple is set to construct a third retail outlet in Madrid's famous "Tio Pepe" building, with floor space at the Puerta del Sol location expected to exceed that of the company's large Fifth Avenue store in New York.
Spanish publication TeleCinco.com reported on Thursday that Madrid city officials announced that the historic structure has been approved for renovations, and will include the construction of an Apple Store that is expected to occupy the first and second floors as well as part of the basement, according to ifoAppleStore.com.
Although the exact square footage of Apple's rented space is unknown, a report by El Pais claims that the new store will most likely exceed the size (machine translation) of the company's iconic Fifth Avenue location in New York. A source for the publication also claims that the renovation is being sponsored by the Cupertino, Calif. company.
The "Puerta del Sol #1" project will restore the facade of the building built in the 1860's to retrieve much of the luster lost since the Hotel Paris left the building four years ago. The French-style structure is listed in Spain's Catalogue of Protected buildings and plans for the renovation took nearly a year to reach approval.
"[The project] is one more link in the process of downtown revitalization, which will contribute to increasing commercial and tourist attractions of Madrid," said Deputy Mayor Manuel Cobo.
Conceptualization of Apple's planned Madrid store at Puerta del Sol | Source: City of Madrid
Cobo notes that among the various structural upgrades, the renovation will add a vertical shaft for elevators, cabling and air conditioning to all levels of the building. The courtyard will be covered with glass to incorporate the space into the ground floor retail area, and will serve as a large central skylight.
As seen in Apple Stores around the world, the Puerta del Sol location will feature open-spaces and the melding of existing architecture with modern glass and steel designs.
Usually sitting atop the seven-story structure is the famous "Tio Pepe" lighted billboard, which advertises the best-selling sherry (jerez) in the world, however the famous sign has been removed temporarily as renovations take place.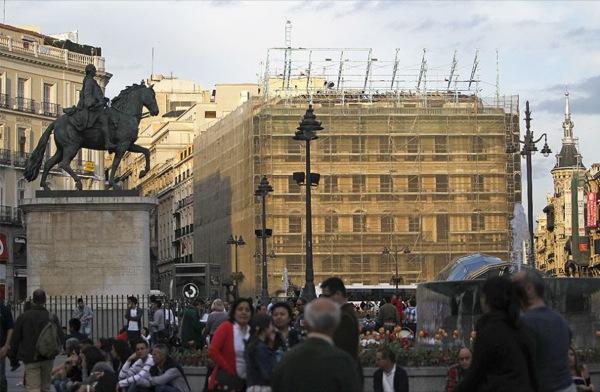 Construction underway at "Tio Pepe" building | Source: El Pais
The Puerta del Sol is a landmark plaza in the Spanish capital which sees yearly New Year's Eve celebrations and was the staging area for the 2011 Spanish Revolution. Apple's new store will be located near the iconic Casa de Correos, and is within walking distance to one of the largest underground rail station in the world.
With renovations planned to finish by Fall 2012, the location will become home to the sixth Apple store in Spain and the third in Madrid.