54% of future smartphone buyers say they'll choose Apple's iPhone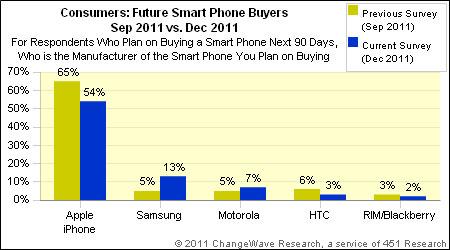 AppleInsider may earn an affiliate commission on purchases made through links on our site.
A new survey has found Apple has "explosive momentum" at the beginning of 2012, with more than half of people who plan to buy a smartphone in the next 90 days choosing Apple's iPhone.
The latest data revealed on Monday by ChangeWave Research comes from a survey of 4,000 North American consumers. Among imminent smartphone buyers, 54 percent said they will get an iPhone.
Though that number is down 11 points from the 65 percent who said they planned to buy an iPhone just after the iPhone 4S launched, ChangeWave noted the numbers show Apple has held on to much of that launch momentum.
"Apple has never dominated smartphone planned buying to this extent more than two months after a major new release," the research firm said.
The poll, conducted in December, also reveals a strong showing for Samsung, which saw its purchase intent grow from 5 percent in the previous survey conducted in September to 13 percent in December. Samsung's surge puts it well ahead of Motorola's 7 percent, HTC with 3 percent, and Research in Motion with just 2 percent.
And as in previous surveys, the latest ChangeWave poll once again revealed that customer satisfaction with the iPhone handily trumps the competition. Among those surveyed, 75 percent said they are "very satisfied" with Apple's iPhone.
Samsung and HTC were in a dead heat for second place among customer satisfaction, with 47 percent of users of each company's devices saying they are "very satisfied." In fourth, 45 percent of Motorola customers were "very satisfied," followed by 31 percent for LG, 23 percent for Nokia, and 22 percent for RIM.
The survey shows little good news, if any, for RIM and its struggling BlackBerry lineup. While demand for the iPhone has grown and customer satisfaction has remained high, RIM hit new lows in the latest ChangeWave survey. Even the BlackBerry operating system could only muster a 22 percent satisfaction rating.
Among mobile operating systems, the poll found that Microsoft's new Windows Phone platform, which the company admits was a response to the success of the iPhone, ranks higher than Google's Android. The survey found 55 percent of Windows Phone users were "very satisfied," compared to 47 percent of Android users. But Microsoft's previous generation Windows Mobile operating system dragged down the company's overall score, as only 12 percent of Windows Mobile users said they were "very satisfied."