Apple recycling efforts expanded in France, Germany and UK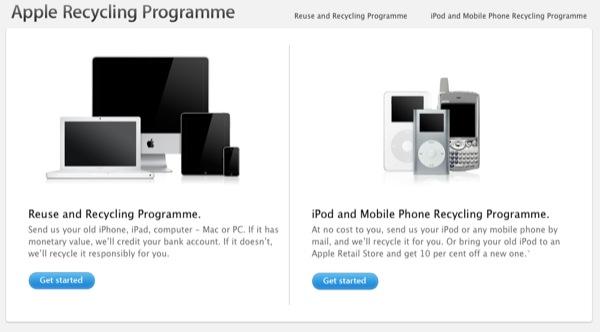 AppleInsider may earn an affiliate commission on purchases made through links on our site.
Apple has added the iPhone and iPad to its hardware recycling initiative France, Germany and the United Kingdom, further extending its worldwide environmental green footprint campaign.
In updates to its country-specific European webpages on Friday, Apple announced the extension of a recycling program first introduced in the U.S. that allows customers to bring in used Macs, iPods, iPhones and iPads to be exchanged for store credit or cash, reports German language Apple blog Macerkopf.de (machine translation).
The expansion brings the three European countries in line with the company's U.S. version by adding iPhones and iPads to the existing list of accepted products, which include Macs, iPods and PCs. European electronics recycler Dataserv Group will be handling intake of the used devices.
Unlike the U.S. initiative, which offers store gift cards and discounts, the European program directly deposits cash into the bank accounts of customers who recycle their used electronics.
Apple states on its website:
"Whether it's an iPhone, iPad, Mac or PC computer, working or not, we'll take it and determine if it qualifies for reuse and has a monetary value. If it does, the amount will be credited directly into your bank account. If it doesn't, you can recycle it responsibly through one of our free recycling programs."
The most recent changes to the program reflect Apple's ongoing effort to be environmentally conscious, and extends the company's recycling efforts that began with the U.S. and Canada in 2001.
Apple currently operates free recycling programs in the U.S., Canada, Australia, parts of Asia, Europe, Africa, the Middle East, Brazil and Costa Rica. More information on rewards and availability can be found at the company's website.