Apple jumps 9 spots to become 8th most valuable brand in the world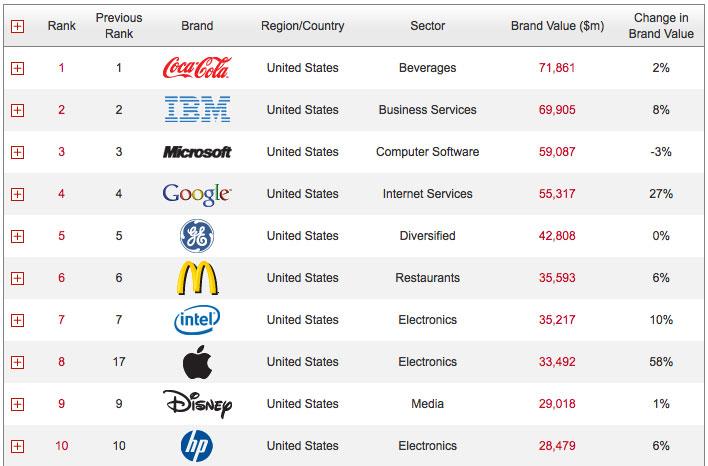 AppleInsider may earn an affiliate commission on purchases made through links on our site.
Apple was ranked the eighth most valuable brand of the world in 2011, with an estimated total value of $33.49 billion, making it bigger than Disney, Mercedes-Benz and Budweiser.
The 2011 rankings were released on Monday by Bloomberg as part of Interbrand's Best Global Brands 2011 report. It found that Apple increased its brand value by 58 percent year over year, helping it surge 9 places from the No. 17 spot it held in 2010.
Apple's tremendous year over year growth in brand value was by far the largest of any company in the top 100. The next closest in terms of growth was Amazon, which grew its value by 32 percent in 2011 to bring it to $12.76 billion, good for 26th place.
The No. 1 company again this year was Coca-Cola, which has an estimated brand value of $71.86 billion. It grew 2 percent year over year to maintain its lead.
Narrowing the gap in second place was IBM, with a brand value of $69.91 billion. IBM's brand saw 8 percent growth in value in 2011.
Apple's rival Microsoft was the third most valuable brand in the world in 2011, estimated at $59.1 billion. But the Redmond, Wash., software giant saw some of its value disappear last year, posting a 3 percent year over year loss from 2010.
Another Apple rival, Google, came in fourth with its brand estimated at $55.31 billion. The search company grew its brand value 27 percent year over year in 2011.
In fifth was GE ($42.81 billion), followed by McDonald's ($35.59 billion) and Intel ($35.22 billion). Apple in eighth was followed by Disney ($29.02 billion) and HP ($28.48 billion).
Other noteworthy companies on the list were Nokia, sliding 6 spots to No. 14, and losing 15 percent of its value to hit $25.07 billion; Samsung, growing 20 percent year over year to hit $23.43 billion and 17th place; and Sony, which lost 13 percent of its value last year to hit $9.88 billion and slip one spot to No. 35.
Apple first cracked the top 20 global brands in the same survey in 2009, when its brand value was estimated at $15.4 billion. The company has steadily seen its brand name value rise over the last decade, as its products have continued to grow in popularity.