RBC ups Apple stock price target to $525 due to 'iPhone frenzy'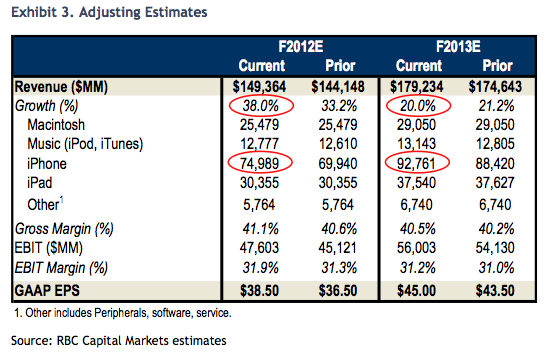 Investment bank RBC upped its price target for shares of Apple from $500 to $525 on Wednesday on expectations that the company will solidly beat Wall Street estimates for the first quarter of fiscal 2012 and offer healthy guidance going into the second quarter.
Analyst Mike Abramsky raised the firm's target on Wednesday In a note to investors entitled "iPhone Frenzy: Expecting Strong Q1 Results." The firm expects Apple to announce $40.2 billion in revenue and $11.00 earnings per share, up from prior projections of $38.6 billion and $10.00 EPS, next Tuesday.
RBC believes Wall Street will react favorably to the results because analysts' expectations were reset after transitions with Apple's iPhone product line during the September 2011 quarter resulted in a miss.
Abramsky believes Apple will report fiscal second quarter guidance of $32 billion in revenue and $8.00 EPS. Given that his estimates are slightly above Street guidance of $31.8 billion and $7.94 EPS, the analyst believes Apple's guidance will be "healthy." He also pointed out that fiscal second quarter guidance may include more global iPhone rollouts and the expected March launch of the third-generation iPad.
Global checks indicated "unprecedented iPhone sell-through," Abramsky said, noting stock outs in multiple regions. He estimates 32 million iPhones shipped in the December quarter, with 14.2 million coming from the U.S. A recent survey of analysts revealed that professionals expect 29.74 million units on average, while independent estimates were 33.4 million iPhones on average.
RBC expects Apple to report sales of 13 million iPads during the holiday quarter and 5.1 million Macs. The Street consensus for the iPad stands at 13.5 million units, according to one poll.
Apple reassured investors during its last quarterly earnings conference call that its fiscal first quarter would be a record-setting one. The company is guiding for unprecedented revenue of $37 billion during the period. The iPhone maker also said it is confident that it will break its all-time high for quarterly handset sales on the strength of the iPhone 4S launch.