Analyst estimates for Apple's Dec. quarter iPhone sales range from 25M-36M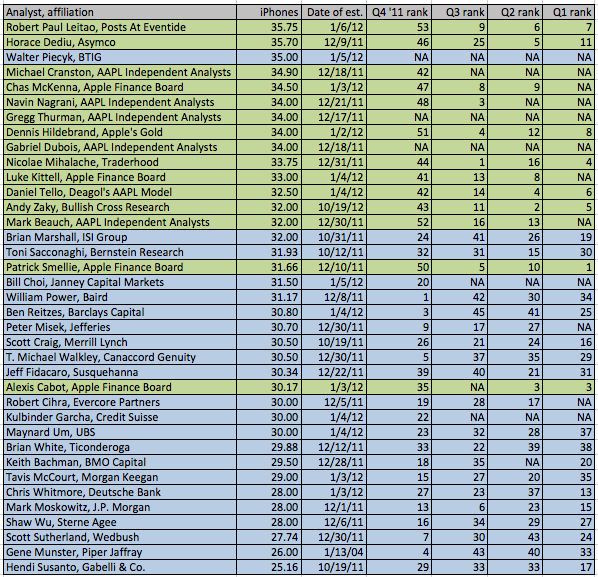 AppleInsider is supported by its audience and may earn commission as an Amazon Associate and affiliate partner on qualifying purchases. These affiliate partnerships do not influence our editorial content.
A poll of more than 30 professional and independent analyst covering Apple has revealed that estimates for Apple's iPhones sales for its first quarter of fiscal 2012 range from 25.16 million to 35.75 million units.
Fortune's Philip Elmer-DeWitt compiled the list, noting an average of 29.74 million for professional analysts and and an average of 33.4 million among independent analysts.
Among 22 Wall Street analysts, the highest response came from BTIG's Walter PIecyk with a forecast of 35 million units. The low among professional analysts came from Gabelli's Hendi Susanto, who estimates Apple sold 25.2 million iPhones. The professional analysts' consensus would represent a year-over-year increase of 83 percent.
The 15 independents polled projected 106 percent growth from a year ago. Robert Paul Leitao offered the highest estimate of 35.75 million units, followed closely by Asymco's Horace Dediu with 35.70 million. Alexis Cabot of the Apple Finance Board offered the lowest independent estimate with 30.17 million iPhones. Also of note, Andy Zaky of Bullish Cross Research believes Apple will report 32 million units from the December quarter.
Though amateur analysts are usually more accurate in their predictions than their Wall Street counterparts, the sequential drop in sales in the September 2011 quarter as customers held off on buying the iPhone 4 in anticipation of the iPhone 4S caught bloggers by surprise. Apple sold 17 million iPhones in the third quarter of calendar 2011, down from its all-time high of 20.34 million units in the June 2011 quarter.
Analysts were given an unusually candid prediction from Apple itself during last quarter's earnings conference call. CEO TIm Cook said he was "confident" that the company would break the record for most iPhones sold in a quarter during the holiday quarter. The iPhone maker is also guiding for record revenues of $37 billion during the period, driven largely by its best-selling handset. The results are aided by the fact that this particular quarter lasts 14 weeks rather than the usual 13 in order to align the fiscal period with the December calendar.
Last week's news that Verizon had doubled its iPhone sales from 2 million in the September quarter to 4.2 million during the most recent quarter was taken as an early indicator of a blowout quarter from Apple. UBS analyst Maynard Um kept his prediction of 30 million units, while noting that Verizon's sales figures could suggest strong potential for an upside if the mix of U.S. and international sales remains roughly the same as in years past.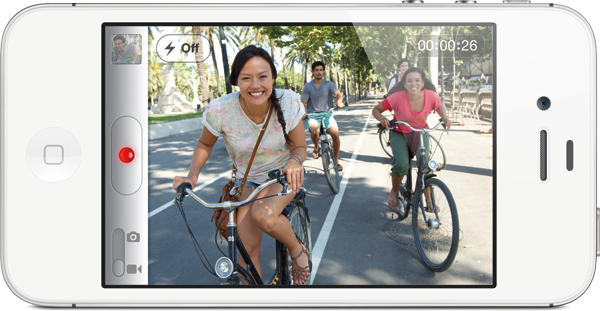 Apple is set to announce its quarterly results on Tuesday, Jan. 24. Wall Street expects Apple to post profits of $9.83 billion on revenue of $38.16 billion. As usual, AppleInsider will have live, extensive coverage of the company's earnings report and conference call.