Apple working on version of Siri to help you purchase products online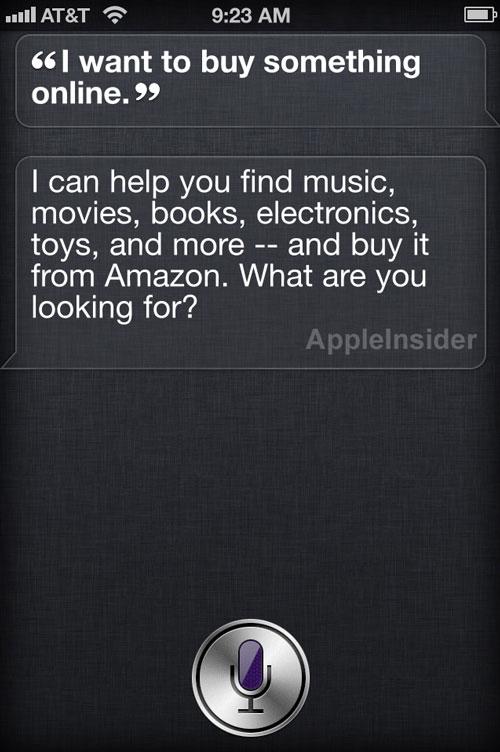 AppleInsider may earn an affiliate commission on purchases made through links on our site.
Future updates to Apple's Siri personal assistant could grant users the ability to purchase items from online stores using only their voice.
Apple's interest in expanding Siri to help with online shopping was revealed this week in a new patent application discovered by AppleInsider. The proposed invention, entitled "Intelligent Automated Assistant," is a detailed look not only at what Siri can already do, but what it might be able to do in the future.
In its current form on the iPhone 4S, Siri does not allow users to complete transactions with online stores. The voice-driven personal assistant software will respond with "Sorry, I can't purchase that."
But Apple's latest patent filing specifically highlights e-commerce as a key function of its "Intelligent Automated Assistant." The application notes that Siri could be used for "online purchases of items such as books, DVDs, music and the like."
With e-commerce functionality added to Siri, a user could ask their iPhone to purchase a new song, album, TV episode or movie through Apple's iTunes Store. Similarly, transactions through the iBookstore or even the App Store could theoretically be initiated.
But Apple's filing also mentions physical items like DVDs, suggesting that Siri could also integrate with online retailers. It's possible that such a system could be used to make a purchase through a retailer like Best Buy and allow users to pick up their purchase at a nearby store.
Last month, users gained the ability to check available inventory at Best Buy through Siri, thanks to new capability with the Wolfram Alpha engine Siri utilizes. But while customers can see if an item is in stock, Siri does not yet allow users to buy an item.
Mockup including Siri dialogue found in Apple patent application.
The patent application specifically names Amazon as a potential partner in such a system. The example has Siri telling a user: "I can help you find music, movies, books, electronics, toys, and more — and buy it from Amazon. What are you looking for?"
The proposed invention, made public this week by the U.S. Patent and Trademark Office, was first filed in January of 2011. Its long list of credited inventors includes original employees of Siri, the company Apple acquired, including Dag Kittlaus, the Siri co-founder who left Apple last year after the launch of the iPhone 4S.
The remaining credited inventors are Thomas Robert Gruber, Adam John Cheyer, Didier Rene Guzzoni, Christopher Dean Brigham, Richard Donald Giuli, Marcello Bastea-forte, and Harry Joseph Saddler.