Briefly: iTunes U support, first Netherlands Apple Store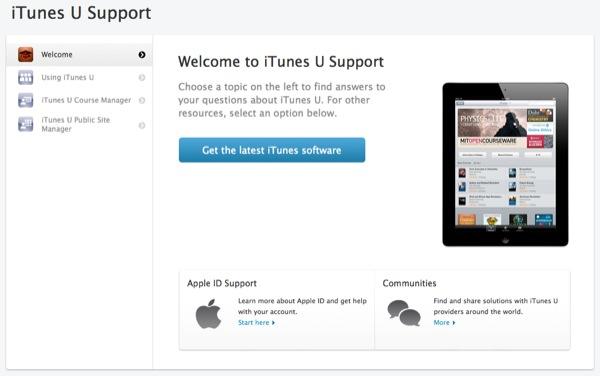 AppleInsider is supported by its audience and may earn commission as an Amazon Associate and affiliate partner on qualifying purchases. These affiliate partnerships do not influence our editorial content.
Apple rolls out a support page for the newly refreshed iTunes U and the Netherlands puts the final touches on its first Apple Store located in Amsterdam.
The section is not yet as robust as other Apple support pages, but the information provided gives a somewhat brief overview of the program's various apps, publishing and course management tools. Support sections include a "Welcome" page, "Using iTunes U," "iTunes Course Manager" and iTunes U Public Site Manager."
In addition to the Apple-provided information, forums have also been created for both students and instructors to facilitate a support community.
iTunes U was announced in a Jan. 19 Apple event and has expanded from a selection of podcasts in the iTunes Music Store to a new way for schools to create and disseminate information. The revamped system has an iOS app that handles class materials, a syllabus and even teachers' schedules.
Apple is looking to tie iBooks 2, also announced at the recent event, into iTunes U to create a one-stop-shop ecosystem where students can sign up for courses, buy and manage materials and connect with teachers.
Thanks to blustery Netherlands weather, a tarp covering the entryway of what is to be the country's first Apple Store was blown away(machine translation) on Sunday, giving the public a sneak peek of the outlet that is scheduled to open in February, reports Dutch language Apple blog iPhoneclub.
The Leidseplein Square location in Amsterdam will apparently sport a spiral glass staircase leading up to the store's second floor, which is covered by a glass pyramid as in Apple outlet in the Louvre.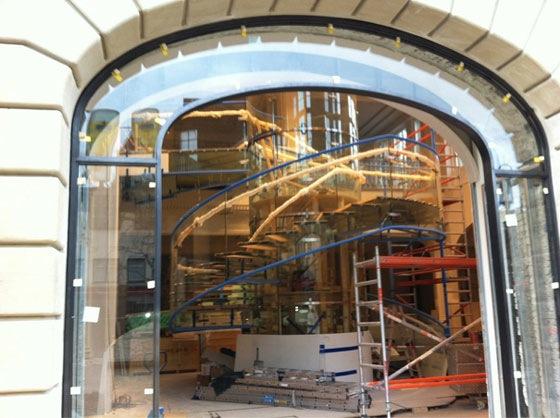 The Netherland's first Apple Store will feature typical Apple aesthetics, including a spiral glass staircase | Source: @geertsam(via iPhoneclub)
The blog also claims that it has received reports from the building's cleaning company that employees are being trained for a a mid-February opening, however the rumors are unconfirmed.